As divers, we have all witnessed somebody take their giant stride into the water and emerge surrounded by hissing bubbles from a free-flowing secondary regulator — or maybe this has even happened to you!
When a regulator free-flows at the surface, it is simply a loud annoyance and can be quickly resolved by a swift tap to (or button-purge of) the regulator second stage — or a diver can turn off the air tank if it's a stubborn free-flow.
But what happens if your regulator free-flows at depth? What should you do?
In short, you should breathe, remain calm, and address the situation appropriately depending on your circumstances and the tools you have available.
Regulators are built to fail open so that a diver still has access to air when a regulator malfunctions.
That being said, with new regulator technology, free-flowing regulators are rare and are generally easy to prevent, but it is always best to know what to do in any stressful situation underwater to prevent an emergency.
Remember during your open water class, when you learned how to breathe from a free-flowing regulator?
You gently pushed the purge button to simulate a free-flow while tilting your head to the right side, with the mouthpiece half out of your lips.
This allowed the high-pressure bubble stream to escape to the surface up the side of your face while leaving a small air pocket in front of your mouth to breathe from.
In a shallow swimming pool, this skill may not have been daunting because you are close to the surface and would not be in any serious trouble if you run your air down as a result of the simulated free-flow.
However, if a regulator free-flows at depth, the surge of air pouring out of the second stage will ensure that your tank's air is depleted quickly, and this could potentially cause an emergency situation before you safely reach the surface.
Because of this, divers should know how to prevent the situation from happening in the first place, as well as know what to do in the event that it does happen at depth.
Preventing Free-Flowing Regulators in the First Place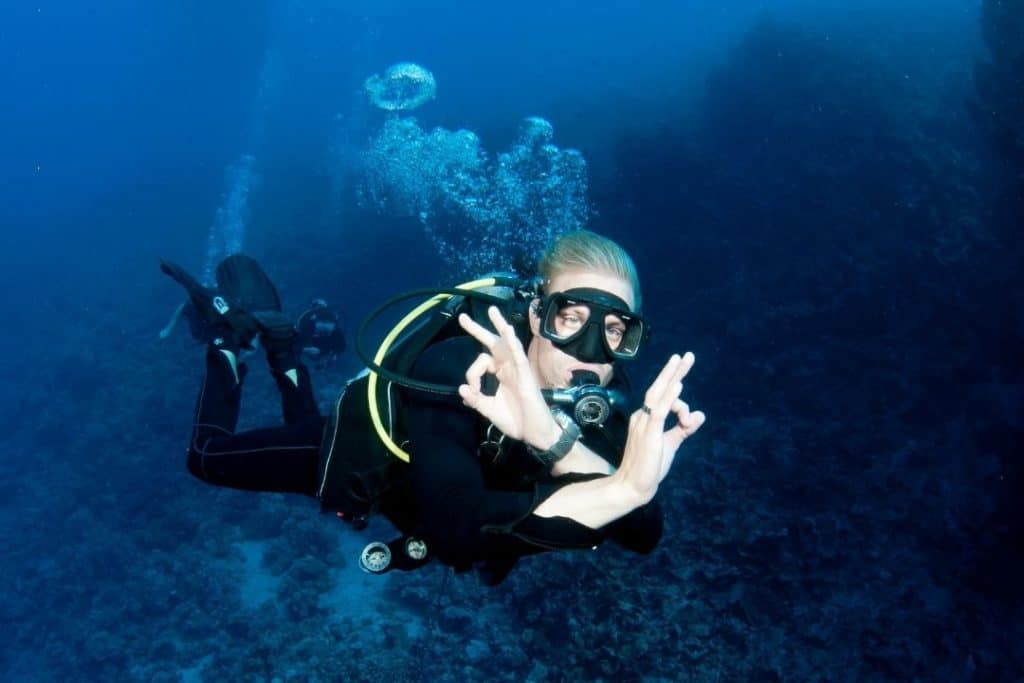 Scuba diving is a gear-heavy sport, and as a diver gets more captivated by the activity, it only goes to follow that they become well-versed in the equipment they are using underwater.
Knowing about your gear and how it functions, as well as what brand and style of gear works best for your diving experiences, showcases that you are acting as a safe and prudent diver.
It also implies that you are well prepared for your dive and is likely to mean that you are preventing dangerous scenarios with your knowledge and its application.
In other words, research and preparation are the easiest ways to prevent a regulator from free-flowing.
A regulator first stage functions to decrease the pressure from the air in the tank (2250 – 3400 psi, or 150 – 240 bar) to a breathable ambient pressure (120 – 150 psi, or 8 – 10 bar).
Most regulator free-flow instances happen when the temperature inside the first stage drops too quickly and causes internal or external parts to form ice and freeze, which occurs most often in cold water environments.
However, regulators can also free-flow at depth if they have not been serviced properly and the first stage is operating at too low of an ambient pressure, which also invites freezing to occur.
Or, a free-flow can happen simply because a diver leaves sand, salt, or other debris in their gear, which gets stuck on the regulator's internal parts.
The prevention of these scenarios is easy: service and clean your gear regularly, and use gear that is appropriate for your dive setting.
Every brand of regulator has a recommended service schedule, which your local dive shop can keep you informed of and facilitate, and most major scuba brands sell regulators that are specifically made for cold water diving to prevent freeze.
You should rinse your gear in fresh water after every dive.
When you are prepared with proper gear that is regularly serviced, you dramatically decrease any chance of gear malfunction like free-flowing regulators.
Redundancies
Even using regularly serviced gear and being properly outfitted with the adequate gear for the environment, many divers prefer to take their preparedness even further with multiple redundancies.
Particularly in the technical diving community, leaving any room for the chance of an incident can have life-threatening implications, so these divers add redundancy options for their safety (this can also be true in recreational diving specialties like deep diving or wreck diving).
Although having pristine gear that's made for the environment is perfectly adequate to keep a diver safe in normal circumstances, there is always a chance that abnormal circumstances come into play enough in these more technical environments to increase the chances of a gear malfunction.
To prevent an emergency in these unlikely scenarios, additional gear like a bail-out pony bottle, clip-on stage bottle, or even twin-tank set ups are common.
In relation to free-flowing regulators, these redundancies essentially solve the problem right away, because you can switch to an alternative air source completely.
What when a free-flow occurs at depth
However, if a diver does not carry all these redundancies (as most don't), it is still important to know how to proceed when your regulator malfunctions at depth.
The first and most important thing to remember is:
Remain calm and do not bolt to the surface. A free-flowing regulator at depth is not an emergency scenario, but it can become one if a diver panics and fails to calmly handle the situation before it spirals into an emergency like an uncontrolled ascent or an out of air scenario.
After that step, here are the best ways to calmly react to a free-flow regulator at depth:
Switch to your bail-out or stage bottle if you have one. Then assess the situation and abort the dive normally with your buddy if necessary.
Breathe from the free-flow until you get to your buddy to perform a normal ascent. Breathing from a free-flowing regulator can be uncomfortable, so you may want to practice this skill if it's been a while (in a controlled environment like a pool). You could also use your own octo as a last resort until you get to your buddy, but once you get to your buddy you should switch to their octo for the ascent, as the free-flow could cause your air tank to deplete quickly.
Overall, free-flowing regulators are at the bottom of the list of things that divers normally worry about happening underwater, but reacting with panic has caused many incidents of uncontrolled ascents.
Knowing how to react calmly will prevent an emergency.
Questions or comments? Leave them below!