The ScubaPro MK25 first stage paired with the S600 second stage is one of the most consistently high-rated and classic regulator pairings out there.
The build of this regulator has hardly changed in decades (newer models essentially update only cosmetically), because the inner workings of the regulator have been maximized to their full potential.
Throughout my years of instructing scuba diving in California, I have owned a ScubaPro MK25/S600 regulator with a deep blue titanium core anti-corrosive coating.
In this review, I will discuss the following aspects of the regulator and what I like or dislike about them.
Regulator Overview
Scubapro S600 Color Kit
Overall, the MK25 first stage and S600 second stage combo is one of the greatest out there for a recreational diver, as well as many technical divers. Be aware that it is not fully suited to true cold water conditions (below 50 degrees Fahrenheit).
Balanced piston design first stage, Swivelling low pressure turret
5 low pressure ports | 2 high pressure ports
Balanced second stage valve, Diver adjustable venturi and resistance
Available in Yoke style & DIN
Materials
The MK25 first stage has a chrome-plated brass body, and is a fully air-balanced piston style regulator, essentially resulting in the easy breathing that this regulator is widely known for.
This chrome-plated brass body makes the regulator first stage more affordable (using brass instead of something more expensive like titanium), while maintaining necessary durability for the price (chrome-plating provides impact resistance where uncoated brass is malleable, and also provides some inherent corrosion resistance that brass doesn't maintain on its own).
In sum, this regulator will last forever if it is kept serviced. I am not gentle on my gear, and I've never broken a thing!
The (also air-balanced) S600 second stage is made of a steel frame with a reinforced technopolymer case and front cover.
Technopolymers are basically extra durable plastic-like materials that are made to withstand high thermal variation while maintaining durability and mechanical performance.
In other words, the S600 second stage will last you a long time, but doesn't cost as much (and also doesn't weigh as much!) as it would if it were fully constructed of durable metals.
I have had some very minor issues with difficulty in cracking effort (discussed later) because of the cold, but that is much more likely to do with me keeping my regulator exposed to the cold air before going on my dive than the gear's materials.
Piston First Stage
The MK25 is a piston style regulator, which allows more air into the breathing chamber at once than a traditional diaphragm regulator would (to learn more about piston versus diaphragm regulators, read this article explaining the mechanics of each).
This, in combination with the super-flow hose (which has a larger-than-standard internal hose diameter) and the fully balanced first/second stages, is what makes this regulator known for its ease of breathing.
Venturi and Flow Resistance Adjustment
The ease of breathing in a regulator can be broken down into two main categories – the amount of effort it takes a diver to open the valve allowing air into the second stage (known as the cracking or opening effort), and the amount of effort it takes to continue the flow of air for a breath once the valve is open (known as flow resistance).
The diver-adjustable inhalation effort valve on the S600 allows the diver to adjust the exertion needed for the cracking effort to initiate breathing in the second stage.
When a diver twists the knob, they are simply coiling or loosening an internal spring – the tighter the spring, the greater the cracking effort.
If the spring is fully loose, divers may feel like a slight but consistent free-flow from the second stage while breathing.
The adjustment of this valve is highly preferential and depends heavily on the dive conditions and the diver's depth.
Flow resistance is maintained in the ScubaPro S600 with the patented Venturi-initiated vacuum assist (VIVA) switch and the diver-adjustable inhalation effort valve.
The VIVA switch allows the diver to designate the second stage in "dive" or "pre-dive" mode, which, put simply, changes the direction of the airflow.
Pre-dive mode impedes direct air flow out the mouthpiece – no Venturi effect – and dive mode directs air directly toward the mouthpiece, creating a Venturi effect).
Personally, I always keep my S600 second stage in pre-dive, and my adjustment knob fully closed (although this is very uncommon).
The only time I switch my Venturi valve to dive mode or open my adjustment knob at all is when I am chasing a student (not super uncommon–haha!) or am caught in a current where greater exertion is required – in other words, when I'm losing my breath.
Otherwise, I find that having those settings adjusted to "easier" breathing actually overwhelms me with air (not a horrible problem to have), so I keep them closed to conserve my air supply.
In general, though, I would recommend for most divers to keep the VIVA switch to dive mode while underwater, and the adjustment knob slightly open (only opening fully when needed, but also not keeping fully closed).
Pressure Ports and Swivels
The ScubaPro MK25 first stage has 2 high pressure (HP) ports and 5 low pressure (LP) ports, allowing for an abundant variety of accessories and configurations. In my opinion, having 2 HP ports is a must.
I prefer console dive computers, like my Atomic Cobalt 2, and always have a redundancy pressure gauge (for those rare instances where I forget/am unable to charge my computer).
Other divers will use 2 HP ports with a pressure gauge and a transmitter for their wrist computer.
Having 5 LP ports is great because different gear requirements come about in different dive environments, and it's great to be able to rearrange gear as needed.
In a tropical environment, a diver may only need their BCD LP hose and the regulator LP hoses (primary and secondary), using only 3 LP ports.
But for divers like me that travel to colder conditions or participate in technical dives, additional LP ports are needed for accessories like drysuit hoses.
The configuration of the 5th port is also important to note (located on the bottom/top of the first stage depending on how you orient your first stage when you attach it to the tank).
Many technical divers prefer to use it for their longer regulator hose set-ups for slightly better air flow (the air moves directly through the port from the piston, as opposed to making a 90 degree turn through the ports around the edges of the first stage).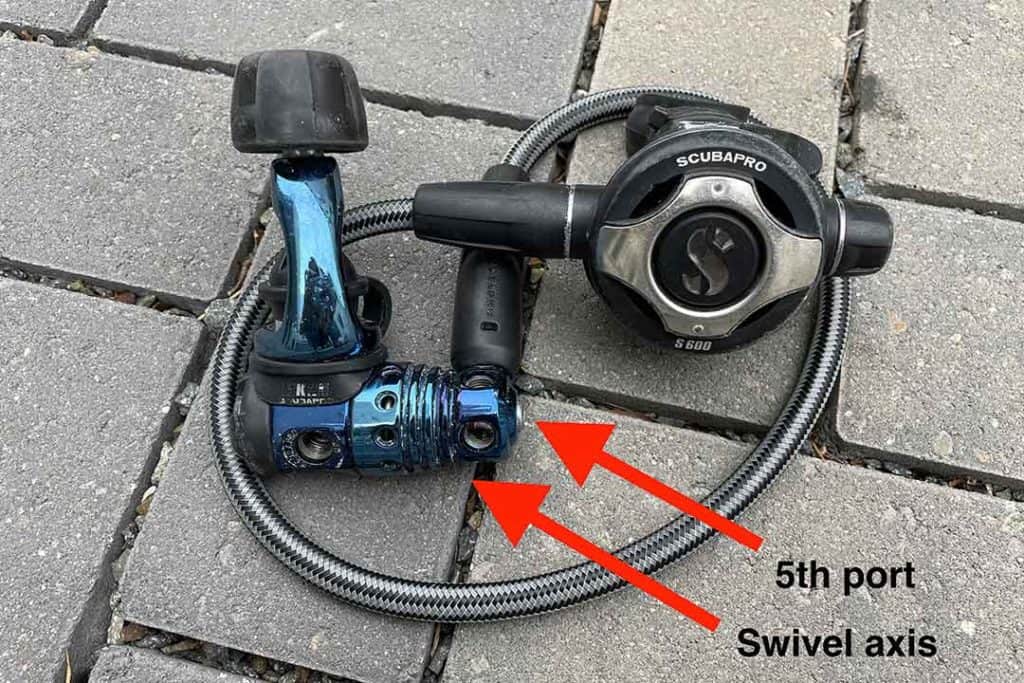 Swivels: I am a HUGE proponent of swivels when they are integrated into the regulator itself.
Using attachments or adaptors to create swivels reduces the efficacy of air flow, so I don't recommend choosing those over purchasing a regulator with swivels built in.
Buy your first and second stages with all the swivels available if you can afford it!
They increase comfort and make movements underwater SO much easier. I do not have a swivel on my second stage, and I wish I did.
Atomic Aquatics regulators are amazing in that regard – their swivels are the best on the market.
Servicing Needs
The MK25/S600 has the standard servicing requirements of once per year. I have never had to service my regulator more often than that, and have never paid more than an average of $70-$100 in parts (labor is additional) for the standard servicing and parts replacements required annually.
Accessories
The faceplate of the S600 can twist off to allow the diver to switch out the purge button cover for one of another color.
ScubaPro offers color kits that match colors available for their other products like BCD pocket holders, fins, masks, and snorkels.
S600 Accessory
Scubapro S600 Color Kit
Spice up your MK25 EVO/S600 system with interchangeable S600 purge covers. Pick a color that celebrates your diving style!
Available colors: Purple, Blue, Red, Pink, Yellow, Orange and White
Easy to install
This is super fun for those divers that want to customize their gear and go all out on making their kit unique!
Conclusion
A scuba regulator is one of the most important purchases in a diver's kit.
When a diver first starts out, it may be difficult to tell a major difference between regulators underwater because there are so many other factors the diver is focused on.
However, as a diver becomes more seasoned, minute differences in the ease of breathing or availability of breathing adjustments become noticeable.
Therefore, if a new diver is looking to buy a regulator early on in their diving career, it is important to do the research on the best regulator for their dive journey.
Even without trying out all the regulators on the market, finding the right regulator is completely possible!
It is always best to consider what sort of dives a regulator will be used for (warm/cold water? Recreational or technical?), and how often a diver will be using the equipment.
These considerations contribute to how much a diver should spend on their first regulator, and also to what brand and model will work best for them.
Overall, the MK25 first stage and S600 second stage combo is one of the greatest out there for a recreational diver, as well as many technical divers.
I would say that it is not fully suited to true cold water conditions (below 50 degrees Fahrenheit), the way a regulator like the MK17/G260 would be (this regulator is environmentally sealed and contains materials more resistant to freezing).
However, it works great for me in the cool waters of California, and it has never let me down!