The Province of Palawan is a mystery to many international visitors, even to many Filipinos.
Outside the country, it is know primarily by divers. Divers who visit here give the diving and dive sites rave reviews.
It is often compared to the world-class diving in nearby Borneo Malaysia. Balabac Island of Palawan is only about 10 miles (ca. 16 kilometers) from Sibumbong Sabah Malaysia.
The island of Palawan is the 7th largest in the Philippines, a part of the Luzon group of islands, and in the MIMAROPA Region.
In total, the province has 1780 Islands and Islets, and 1,250 miles (ca. 2,012 kilometers) of coastline.
Many of the islands are distanced, making the Province of Palawan the largest by area. Palawan is often called the Philippine's last frontier.
This diving guide to Palawan Philippines will introduce you to the great diving of the area.
You will find detailed information of diving El Nido, Coron, Puerto Princess and the Tubbataha Reef Natural Park. It will also show cost, travel and accommodation information.
Palawan has some of the best scuba diving in the philippines, with outstanding coral reefs, a wide variety of marine life, pelagic experiences, wreck diving and two outstanding liveaboard destinations.
There are at least 6 dive destinations to entice the international diver looking for an outstanding dive adventure.
We will cover 3 of these destinations and the 2 liveaboard destinations.
Diving the El Nido (1200)
Despite the reputation of having one of the best beaches in the world and having incredible diving, El Nido is still humble. Located 150 miles (ca. 241 kilometers) north-east of Peurto Princesa, The municipality of El Nido has a population of just over 50,000.
Much of El Nido is contained in the El Nido-Taytay Managed Resource Protected Area, the Philippines's largest resource protected area, 60% of which is marine.
While the town proper is located on the main island of Pawalan, El Nido includes a number of smaller islands and islets.
This includes the 45 islands and islets of the Bacuit Archipelago. The archipelago has dramatic landscapes with towering cliffs, secluded lagoons and over 50 white sand beaches.
Many of the islands are uninhabited making the beaches only accessible by boat. There is even a beach that you have to enter an underwater tunnel to get to.
This is a nature lovers destination. Bird watchers will find 16 endemic and 10 threatened species of birds and limestone cliffs, the home of the swiftlets.
There are 5 types of forest in the protected area. Divers are equally drawn to the marine life.
Diving is the area is great even for beginners, a great place for a discover scuba diving program or to start your open water course.
Bacuit Bay is formed behind a series of islands in front of the main island. The islands form a screen against winds keeping the bay fairly well protected from winds and rough waters.
Divers will find over 800 species of fish and a mix of 100 species of corals, 45 of them are hard corals.
There are 4 species of endangered marine turtles and 6 species of marine mammals endemic to Palawan including dolphins and its native dugong.
The dugong are related to manatees.
Diving in El Nido is divided into three areas. Cadiao Island, Miniloc Island and Entalula Island.
The dive sites vary with shallow reefs as well as walls down to 130 feet (ca. 40 meters).
There are over 30 dive sites in El Nido with about 15 of them considered the main dive sites. Here are a few of the best.
South Miniloc
This dive site is often given the title of the best dive site in El Nino. The site is between the islands of Miniloc and Simizu.
Much of the site is a shallow reef about 40 feet (ca. 12 meters) deep. It has a heavy coral cover, much of it cabbage coral.
This part of the reef is known for the many shoals of colorful reef fish found among the coral.
You will likely also see grouper, snapper, turtles and tuna. Eventually the reef will slope down till it reaches the sandy channel between the two islands. Here the depth is about 80 feet (ca. 24 meters).
There is generally a mild current between the two islands, one of the few dive sites in the area with a current.
When there is a current, there a good chance to see schools of Spanish mackerel.
Nat Nat
Nat Nat is just south of Cadlao Island is another top dive site. It is the closest dive site to the town center and is the top night dive sites as well.
The shallow fringing reef has patches of sand.
Expect to see both small and large examples of marine life in this underwater world, including many varieties of nudibranch, seahorses, anemone fish, yellow tails, turtles and schools of barracuda.
The amount of marine life makes this perfect for those looking for photographic subjects, macro subjects included. It is also a site often used for discover dives.
Helicopter Island Dive sites
There are a couple of dive sites off the south side of Dilumacad island near Cadlao Island that are referred to as the helicopter island sites.
The reef has a massive coral coverage including some very impressive staghorn, plate and table corals.
The sandy bottom near the reef has seagrass that attracts turtles, so expect to see a number of them, especially in the summer.
There is sometimes a mild current that makes a leisurely drift dive possible.
Dilumacad tunnel
The northwest side of Dilumacad island is the start of a tunnel that will take you under the island. Located along a wall at 40 feet (ca. 12 meters), the entrance of tunnel is wide enough for a pair of divers to swim alongside of each other.
About 50 feet (ca. 15 meters) in, the tunnel opens up to a large cavern. The exit is a little narrower allowing only 1 diver across for the last 30 feet (ca. 9 meters).
The tunnel is about 115 feet (ca. 35 meters) long with a sandy bottom and great coral and rock formations. In places, crevices that reach to the surface allows light to show through to the divers.
Entalula wall
The wall at Entalula Island can also be seen listed as two different dive sites.
South Entalula is a gorgeous coral garden that ranges from 16 feet (ca. 5 meters) to 65 feet (ca. 20 meters).
West Entalula is a wall dive with the top of the wall at 20 feet (ca. 6 meters) and the bottom at 100 feet (ca. 30 meters).
The wall is covered in soft and whip corals and sea fans. Make sure you bring a small flashlight to look into the small crevices to see who is hiding from you.
When the conditions are right, this makes a great drift dive starting at the coral garden and drifting along the wall.
Logistics Of Diving El Nido
El Nido is a destination that has something for everyone.
Accomodation in El Nido
Accommodations run from hostels and bed and breakfast locations to some of the best luxury resorts in Asia.
The El Nido Resorts, which consists of Apulit, Lagen, Miniloc, and Pangulasian Island Resorts are often found on the list of the best resorts.
In fact, the October 2021 Condé Nast Traveler Top 10 resort destinations in Asia for 2021 includes El Nido Resort.
The resorts are owned by the largest luxury property company in the Philippines which own upscale malls, condo, and office centers. They also own Swiftair and the Lio Airport (airport code ENI) in El Nido.
The resorts offer a range of vacation packages, some even include charter flights only for the guest.
Other top resorts include Lihim Resort which offers luxury villas starting around 1,200 USD a night and a suite at Matinloc Resort starting at 500 USD a night.
If those prices scare you, rest assured that the median price ( as many above as below) is around 60USD.
You to get a bungalow at El Nido Coco Resort or rooms at Bluemango Rooms & Villas and the Sea Cocoon Hotel for that price.
El Nido Hill Top and Cliffside Cottages offer private rooms around 25 USD.
The airport at El Nido is the small Lio Airport just outside the town center. It is served by Swiftair from and to Manila with a few flights to and from Coron, Puerto Princesa, and Cebu.
Increase popularity of El Nido drove the need for a larger airport, however, the Lio airport could not be expanded.
The San Vicente Airport (airport code SWL) about 45 minutes drive away was built to handle the additional traffic and expand tourism in palawan.
You can get flights here from the international airports at Puerto Princesa (PPS), Manila (MNL), and Clark (CRK). Land travel from Puerto Princesa  takes about 5 hours.
Diving Prices in El nido
Scuba diving prices in El Nido are a bit higher than other Philippine dive destinations, but still a value considering the great diving. A 2 tank boat dive will average you about 80USD.
Seasons
You can dive El Nido year-round.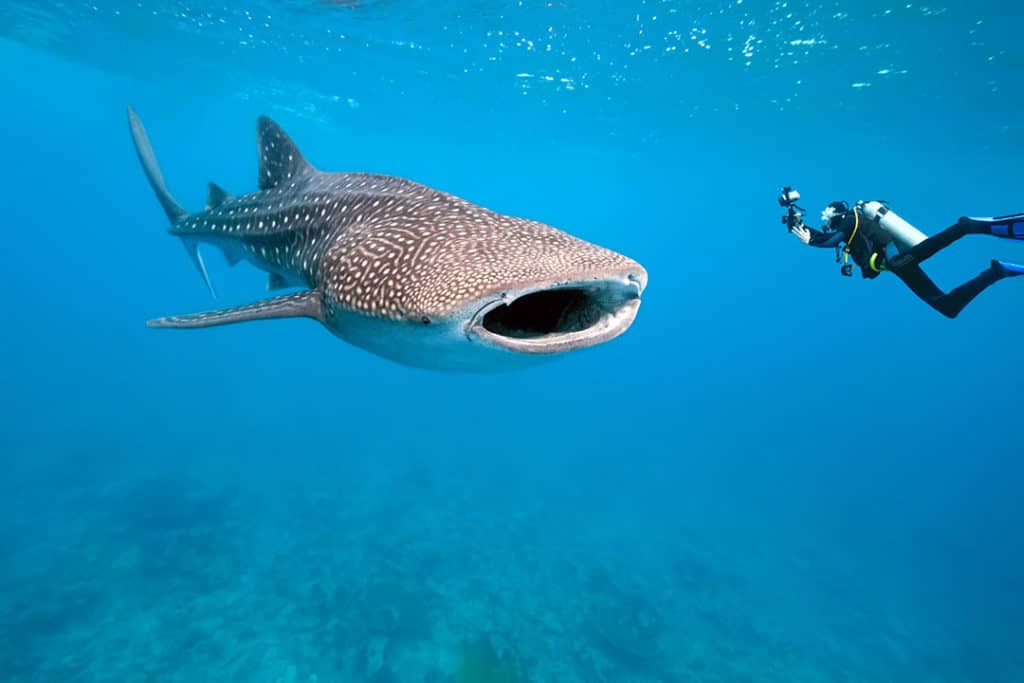 The dry season in Palawan is from December to May and offers the best diving.
January and February sees plankton blooms that can reduce visibility to 20 feet (ca. 6 meters).
However, it will draw in the fish that eat the plankton such as some sharks and the whale sharks.
May and June are the start of the rainy season but it still great diving conditions. Plus, schools generally start the first week of June so domestic tourist numbers are down.
September to November offers the possibility of being rained out for some days and the possibility of a typhoon.
Many Filipino families have a member who work overseas, called a OFW. Most OFW try to come home for a vacation once every 2 years, and the Christmas and New Year's holiday is the most favored.
Flights into the Philippines in late December and out in early January book out early and are more expensive.
Resorts are at their peak.
Holy Week, the week before Easter and the day after, is also a peak time.
Unless Easter is very early in the year, the school year ends the week before and many industries close for the week.
If you are in the country during these two holiday weeks, keep in mind that banks are closed and many ATMs are not reloaded during this time.
Coron Bay
Do you have dive t-shirts that say "Lust for Rust"? Then the 14 wrecks found in Coron Bay are calling you.
Aircraft from US carriers attacked and sunk 24 Japanese ships in September 1944 around the island of Coron.
These ships were the initial draw for divers to the area. If ship wrecks are not your major attraction, Coron can still be a great location for you.
As the dive industry grew, divers discovered that there was much more to diving in the area.
Divers now can explore dive sites with reefs and walls in addition to the 14 ship wrecks dived here.
Diving in Coron is associated with Coron Island and Coron Bay.
That is not a complete picture. Coron comprises the eastern part of Busuanga Island, all of Coron Island and about 50 other minor islets stretching as far as Tara Island in the north-east and Canipo Island in the south.
All these islands are part of the Calamian Archipelago in northern Palawan that separates the South China Sea from the Sulu Sea.
The Municipality of Busuanga on the western portion of Busuanga Island and Dimakya Island a part of the Municipality of Coron are also dive destinations. Some of Coron Bay dive sites are dived from the Busuanga dive centers
Most of the ships in Coron Bay are larger freighter and were sunk in waters suitable for recreational divers.
Many of them have areas where certified wreck divers may enter. Coron dive sites cover a wide area and some may be more than an hour boat ride from your dive center.
Today 14 of those ships formed the backbone of the Coron diving experience with reef and wall diving adding many more sites.
Kyokuzan Maru Shipwreck
This 300 foot (ca. 91 meters) long Japanese freighter sits upright in 140 feet (ca. 43 meters) of water.
The main structures remain intact and divers entering the wreck will find the remains of some cargo including a car and truck.
Morazan Maru /Olympia Maru
Also known as the Tangat wreck, is a former 367 feet (ca. 112 meters) long Japanese army cargo ship.
The wreck is located on the south of Busunga Island and west of Tangat Island and lies intact on its side in water 80 feet (ca. 24 meters) deep.
Divers experiencing the ship as an artificial reef will find it is fully covered with both soft and hard corals.
Wreck certified divers will find this is an easy wreck for penetration dives with easy access to the holds and engine room. This site is a great site to become a wreck diver.
Okikawa Maru
This is one of Coron's shallower wrecks. The main deck sits at 52 feet (ca. 16 meters) is within range of Open Water divers with the deepest point at 85 feet (ca. 26 meters).
This 525 feet (ca. 160 m) long wreck is encrusted in coral and has large schools of snapper, sweetlips, batfish and barracuda, surrounding the wreck.
Barracuda Lake
The lake is in a crater of an old volcano surrounded by limestone cliffs. The lake is about 130 feet (ca. 40 m) deep with a cave around 100 feet (ca. 30 m) down.
This is a nice freshwater dive with an average temperature around 82°f (28° C). Around 40 feet (ca. 12 m), where you hit a halocline where you enter salt water.
Entering the salt water area changes your buoyancy, also the water is hotter rising to 100° f (39° C).
Logistics Of Diving Coron Palawan
Coron attracts mostly divers but does have some luxury places to stay as well as low cost accommodations.
The Paolyn Houseboats on Coron Island is a unique visit. Want to go snorkeling?

Put on your gear, take a dozen steps from your living room and enter the water over a great reef. Some of the best diving is only a few minutes away.
The villas at Club Paradise Resort Palawan on Dimakya Island has its own 2297 feet (ca. 700 meters) pristine beach.
Prices here run around 250 USD. The resort is part of Discovery Hospitality which includes the liveaboard MV Discovery Palawan
The median price here is around 40 USD.
The Argamosa Bayside Inn, the Coron Visitors Hotel and the Skylodge Resort all have rooms around that price. There are a number of homestay choices under 25 USD.
Francisco B Reyes Airport is the air gateway to Coron and Busuanga Island. While a small airport, it is well connected.
Several airlines service the airport with flights from El Nido, San Vicente and Puerto Princesa City in Palawan. There are also flights from Cebu, Clark and Manila.
There is frequent ferry service from El Nido and Puerto Princesa City. You may also consider an overnight ferry from Manila.
Scuba diving cost are similar with other Philippine destinations with a 3 tank dive trip being around 80 USD. The dive season is similar to El Nido.
Puerto Princesa
Puerto Princesa City, the capital of Palawan Province, is known as the city in the forest. A highly urbanized city, It is the largest City in the Philippines (Zamboanga City and Davao City are similar in size and are also sometimes given that title as well) covering 919.32 square miles (ca 2,400 square kilometers).
Puerto Princesa is not what you would imagine from this initial description, it is the least populated city in the Philippines with around 300,000 people living there.
That comes out to about 280 people per square mile (110 people per square kilometer). By comparison Manila Philippines is the most densely populated city in the world with 107,523 people per square mile (41,515 per square kilometer).
While many cities around the world boast of their "green spaces", none can match the rain forest that occupy 75% of this city. It is no wonder that Puerto Princesa is the cleanest and greenest city in the country.
Diving around Puerto Princesa City is outstanding. Generally you will find diving sites in Puerto Princesa Bay and along the Sulu Sea to the west and south of the main city.
Northeast of the city is Honda Bay with an outstanding selection of over 40 dive sites. The city extends west to the South China Sea. While you will find some outstanding beaches along the west coast, it is mostly isolated and without any dive centers.
Port Baron in San Vicente, about 100 miles (ca. 161 kilometers) north of Puerto Princesa City, is also on the west coast and has some excellent diving.
The city is also the departure point for liveaboards going to the Tubbataha Reef Natural Park.
While you can not dive it, a visit to the Subterranean River National River is something you should do if in the area. There are dozens of dive sites available to the local dive centers. Here are a few of the best loved;
Mares Rock
A couple of reasons makes this dive site among the most popular dive sites around Puerto Princesa City. Mares Rock is at the mouth of Puerto Princesa Bay at the city center.
This makes it an easy site to get to. There is a shallow fringing reef along the shoreline, moving away from the shore it becomes a gentle slope.
The slope continues down until it reaches about 115 feet (ca. 35 meters), where it reaches the sandy bottom.
The shallow portion of the reef is great for photography with many colorful reef fish ready to have their photographs taken.
The deep water nearby brings fresh nutrients to the reef as well as bigger fish. Jackfish, tuna, and barracuda, are commonly found as well as turtles.
At slack tide, this site is suitable for any diver. When the tides are turning, there may be strong currents at deeper points along the slope.
Red Cliff
This site is in a small cove just inside the south side of the mouth of Puerto Princesa Bay. The site has a flat reef at 20 feet (ca. 6 meters), which has a good covering of soft corals.
Moving away from the shore it then starts to slope to deeper waters.
This site is often used for training dives as the conditions are normally gentle and with good visibility. The variety and abundance of fish will impress any diver.
In addition to colorful reef fish you will likely see some rays, octopus and turtles.
Those diving the deeper portion of the slope may see hammerhead sharks and manta rays.
The underwater terrain is also varied with a mini wall as well as the slope.
Helen's Garden
Honda Bay has a number of small islands with fringing reefs. The bay has a maximum depth of 80 feet (ca. 24 meters).
Helen's Garden is typical of the dive sites within the bay and one of the most popular.
Located on the fringing reef of Arrecefi Island, It is a great site for entry level training as well as snorkeling.
The soft and hard coral coverage is very good with large stands of table and stag horn.
Reef fish are plentiful making it a great site for photography as well.
If you love clams, you will love the giant clams found here, most over 3 feet (0.91 meters) wide.
Experience divers will also find the dive site very enjoyable. The Dos Palmas Resort is on the island.
Henry's Reef
Arrecefi island's eastern side fringing reef is where you will find Henry's Reef dive site.
The reef is 15 feet (ca 4.5 meters) and has a small wall that drops off to 35 feet (ca. 11 meters).
It has diverse coral varieties and a home to many fishes like yellow stripe snappers, fusiliers, puffer and lionfish.
While lionfish are an invasive species in the Caribbean, they are from the Indo-Pacific and are a welcome sight here.
East Pandan Reef
This fringing reef on the east side of Pandan island is a great dive site in calm weather, but can get rough in high seas.
The reef has a very nice coral cover and a steep slope down to 60 feet (ca. 18 meters).
Logistics Of Diving Puerto Princesa City
While there are some upscale resorts in Puerto Princesa City, most of the accommodations are more modest.
The Balai Princesa Resort and the Panja Resort have stays starting around 125 USD.
The median price is around 30 USD.
You can get a standard room at Runway Suites or a two-bedroom apartment at the Globetrotter Inn Hostel around that price.
Nine airlines service Puerto Princesa International Airport (PPA) making it easy to reach from a number of domestic and international airports.
Flights from Manila and Cebu are the most frequent. There are other domestic flights including Clark and Coron.
Hong Kong and Seoul are the most frequent international connections.
A typical dive day would be around 80 USD for a two tank day and 90 USD for a three tank day.
As with the other Palawan destinations, Puerto Princesa is a year-round destination, with just September to November as questionable due to weather.
Liveaboards Sailing Palawan Waters
For many divers the ultimate dive vacation is a liveaboard. Your days are spent diving often 4 dives a day and a night dive if your residual nitrogen will allow.
You are sharing your vacation with kinder souls, those who like you understand what diving is all about.
No nightclubs, you spend your time sharing dive stories and talking about the daily dives, maybe sharing your photographs.
The liveaboard industry in the Philippines, like the dive industry, was slow to grow.
Today, liveaboard diving in the Philippines has over 15 boats that spend at least a portion of each year sailing in the waters of Palawan.
You will find boats with simple bunks to those using luxury yachts.
Tubbataha Reef Natural Park
The Tubbataha Reef Natural Park is where the liveaboard industry in the Philippines started.
The Tubbataha Natural Park, also known as the Tubbataha Reefs Natural Park is a protected area (unesco world heritage site) and is home to more than 1,200 marine species.
These including sea grasses and algae, sea turtles, corals, sharks, rays, reef fish, and marine mammals.
There are 181 species found here that are listed as threatened some that are Critically Endangered.
Tubbataha Reefs is considered one of the top 3 remote diving destinations in the world.
The Tubbataha Reefs Natural Park is in the Sulu Sea about 100 miles (ca. 161 kilometers) southeast of Puerto Princesa.
Dive boats depart in the late afternoon for the 10 to 16-hour trip depending on where the liveaboard does their first set of dives.
The Sulu Sea can be brutal and the dive season is restricted to mid March to the end of June.
The diving is divided into three main areas, North Atoll, South Atoll, and Jessy Beazley Reef.
The Smithsonian has this to say about the park: "The site is an example of a pristine coral reef with a spectacular 100 m (330 ft) perpendicular wall, extensive lagoons, and two coral islands – all of which supports a diverse marine community".
Philippines Aggressor
The Philippines Aggressor is the newest member of the Aggressor and dives the reef during the season. In addition to Tubbataha
they have 3 different itineraries of 7 or 10-nights long exploring the Visayas,
MV Solitude One
Rebuilt from a 171foot steel-hulled merchant vessel, the MV Solitude one liveaboard has undergone a complete makeover from her original form to set new standards in hospitality and professionalism.
When not diving Tubbataha, they travel the Verde Island Passage from Anilo where they own a resort or are sailing in Palau.
MV Discovery Palawan
The Discovery Fleet was the first liveaboards in the Philippines.
The MV Discovery liveaboard is a recently renovated 140 foot long vessel has 20 cabins, 16 lower deck standard rooms and 4 upper deck rooms.
Out of season, it sails Coron, palawan diving as well as Cebu routes.
Apo Reef And Coron
The Apo Reef is the world's second-largest contiguous coral reef system and a National Park. It is known for outstanding reefs and great marine life.
It is not frequently visited as it is 40 miles (ca. 64 kilometers) off the coast of Occidental Mindoro. The closest point on Occidental Mindoro is 3 hours from the nearest airport with limited land transportation.
Coron is talked about earlier in this article. It is a great dive destination. However, many of the dive sites are hours apart.
Having a liveaboard reduces the inconvenience of these long trips as you do not have to double back.
Apo Reef and Coron are not so far apart that you could not combine the two destination for one liveaboard week.
When the liveaboards are not able to sail Tubbataha, some of them start sailing from Coron.
Agos
The Agos boat is a traditional Philippino Banca offering budget liveaboard diving.
Based in Coron, the Agos offers affordable dorm-style accommodation to explore the underwater beauty of Apo Reef and the wrecks of Coron to access dive sites not easily reached by land-based dive resorts.
MY Azalea Philippines
The 68 feet (ca. 21 meters) long MY Azalea Philippines is a simple yet comfortable liveaboard offering week-long, year-round dive safaris to some of the best destinations in the Philippines, including Tubbataha Reef, Apo Reef and Coron.
Some of their trips include El Nido.
P/Y Atlantis Azores
The 110 feet (ca. 34 meters) long P/Y Atlantis Azores is the Philippines premier liveaboard.
Aboard Atlantis Azores, a private yacht, scuba divers will explore some of the best diving the Philippines has to offer.
This yacht is owned by the Atlantis Resorts and the APO/Coron sailing start in Puerto Galera.
Conclusion
Roxas, which is a few hours north of Puerto Princesa City, and San Vicente, about an hour south of El Nido, are smaller destinations, you might want to consider.
They offer excellent diving in areas that are not internationally known yet.
If you have dived in Palawan, feel free to add your comments, would love to hear from you.