Nestled amidst the aquamarine waves of Indonesia lies a floating paradise for divers: the 32-meter M/V Mermaid II liveaboard (click to see available dates and prices).
With eight luxury cabins, a delectable blend of Eastern and Western cuisine, and access to some of Indonesia's most coveted dive sites, this liveaboard promises an unparalleled underwater experience.
But does it truly deliver on its promises, and more importantly, does its splendor justify the price tag?
Dive in with me (no pun intended) as I explore the depths of the Mermaid II and determine if it's truly worth your investment.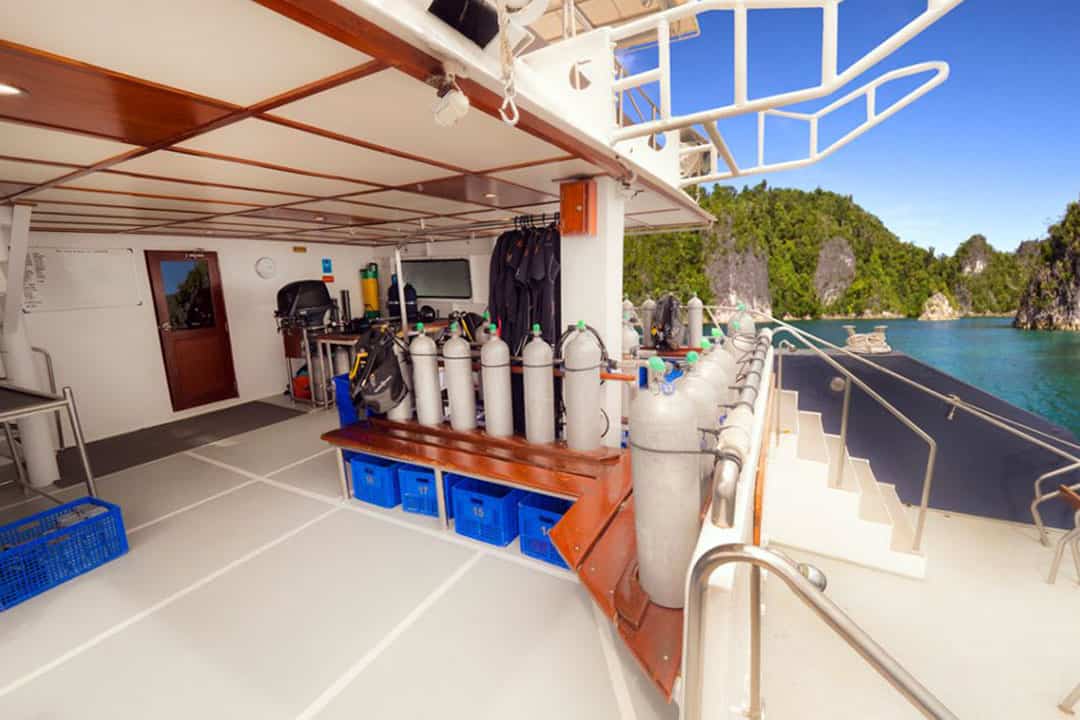 Diving experience on the M/V Mermaid II
Embarking on a dive adventure with the M/V Mermaid II is a journey rich in contrasts and experiences.
The waters of Indonesia, teeming with marine life ranging from majestic mantas and elusive sharks to intricate corals, provide a feast for the eyes.
Particularly in the south, divers have noted exceptional visibility and unparalleled underwater scenes, making it a haven for both novices and professionals.
The crew of the Mermaid II consistently earns high praise for their commitment, expertise, and warmth.
Their detailed dive briefings and hands-on assistance in gearing up and post-dive activities have been noted as some of the highlights.
Smaller dive groups (they have a maximum of 4 divers per divemaster which is standard but it's more often than not less) enables a more tailored experience, allowing divers to communicate preferences and concerns directly with their guide.
On some trips divers noted that they have a tendancy to stay close between the groups, leading to a less quiet environment.
I think this may be the case for sites with stronger currents or difficult orientation which is understandable from a divermaster's perspective but it's still worth noting.
Equipment rental
Here are the dive gear rental prices on board, This is per diving day. The gear they rent is recent, well maintained and not the cheapest bcds and regulators.
| Scuba diving equipment | Rental Price |
| --- | --- |
| Full Set* (Full Set – items marked*) | $40 |
| BCD* item | $15 |
| Regulator – with octopus and gauges* set | $15 |
| Wetsuit — shorty* item | $10 |
| Wetsuit – long* item | $10 |
| Mask/Snorkel* set | $10 |
| Full Foot Fins* item | $10 |
| Open Heel Fins plus Boots set | $15 |
| Compass item | $5 |
| Underwater Camera – per day excl.strobe | $40 |
| Dive Computer Item | $10 |
| Dive Torch item | Free |
| Weights/weight belt item | Free |
| Surface Marker Buoy item | Free |
| 15 Litre tank – subject to availability item | Free |
I find this is a bit too expensive considering the price you already pay for this liveboard, but on the flip side it's better gear than what other budget or mid range liveaboard will lend you.
These prices are valid at the time of publishing this post, check updated prices here.
Diving courses and experience required
Whether you're a novice diver or a seasoned underwater adventurer, the M/V Mermaid II ensures an experience tailored to your diving proficiency.
Here's a breakdown of their PADI courses offerings on this liveaboard:
| Padi Scuba diving Course | Price |
| --- | --- |
| PADI Enriched Air NitroxIncludes course materials and two dives on nitrox | $175 |
| PADI Advanced Open Water (Includes course materials) | $250 |
| Discover Scuba Diving for non divers (Repeat dives are $75 per dive) | $125 |
| Speciality Courses (Peak Performance Buoyancy, Deep Diver, Drift Diver, Night Diver, Underwater Naturalist). | $200 |
My recommendation
While everyone is welcome on the Mermaid II regardless of certification level, for optimal experience and safety, I have a few suggestions:
Advanced Open Water Diver Course:

I strongly recommend this course to truly immerse yourself in the beauty below, especially if you have your sights set on deeper dive sites and wrecks. Some of the sites in their itinerary are only accessible to those certified beyond the basic open water level due to the depth.

Experience with Currents

: Regions like Komodo and Raja Ampat are renowned for their strong currents. For your safety and comfort, completing at least 30 dives before embarking on this liveaboard journey is advisable. Additionally, having recent dive experience before the trip will ensure you're in the best form for the adventures ahead. If you didn't dive for a while, I recommend getting a few in nearby Bali.
Remember, diving groups and site selections onboard are thoughtfully chosen based on your comfort, safety, and diving ability.
Being Advanced open water certified will make it more likely to be paired with experienced dive buddies (they have 4 divers per divemaster maximum)
Diving Destinations & Itineraries
Bali – Komodo – Bali
For those already planning to visit Bali, this long itinerary on two different boats eliminates the need for an additional flight to Labuan Bajo, making it a convenient choice for an uninterrupted dive vacation.
The Mermaid Liveaboards presents a captivating Bali-Komodo-Bali itinerary that spans 10 days aboard the Mermaid I and 8 days on the Mermaid II.
With a deep-rooted expertise in exploring the wonders of Komodo National Park, the journey promises a dive into the most sought-after underwater spots.
Highlights of Komodo National Park:
Above Water: Marvel at the unique pink beach, embark on treks across iconic locations like Padar or Rinca Island, witness the mesmerizing sunset complemented by the flight of thousands of bats from Bat Island, and encounter the majestic Komodo dragons in their natural domain.
Underwater Adventures: Komodo National Park caters to both snorkelers and divers. From vast pelagic realms, shark-infested areas, to macro enthusiasts' paradises, it's a treasure trove. Expect to see Manta rays, barracudas, turtles, various sharks, frogfish, nudibranchs, and the diminutive pygmy seahorse amidst pristine coral gardens.
Raja Ampat
A diver's paradise, Raja Ampat is heralded as one of the last untouched diving frontiers. With a staggering 1,320 fish species and 550 coral species, this archipelago is a hotspot for marine biodiversity.
The name, translating to "four kings," refers to its main islands: Waigeo, Salawati, Batanta, and Misool.
Experience the breathtaking underwater wonders, from manta rays and the elusive tasselled wobbegong shark to the vibrant soft corals hosting the enchanting pygmy seahorses.
Why Choose the Raja Ampat Itinerary?
Unrivaled Marine Diversity: Dive into the heart of the world's most biodiverse marine region, exploring sites rich in macro and large marine life.
Tailored Experiences: While there's a standard itinerary, flexibility ensures that specific dive site desires of guests can be catered to, ensuring a unique experience for each trip.
Seamless Adventure: Over 8-9 days, immerse yourself in a series of dives, ranging from the picturesque soft coral realms of Misool to the action-packed sites in Dampier Strait, known for its manta cleaning stations and vibrant schools of fish.
Cultural Touch: Experience the local culture by visiting places like Arborek and Sawanderek Villages, providing stunning diving opportunities.
Convenience: Starting and ending in Sorong, with efficient transfers and dedicated support from the Mermaid II crew ensures a hassle-free adventure.
Banda sea – Ring of Fire
Embark on a mesmerizing journey across the Banda Sea, also dubbed the 'Ring of Fire'. Starting from the critter-rich Ambon Bay, this itinerary takes you through the Forgotten Islands, with their fascinating wall dives and hammerhead sharks, culminating in the breathtaking Flores Island of Maumere.
Why choose the Banda sea itinerary:
Critter Hunting: Ambon Bay is renowned for muck diving, showcasing rare marine species like psychedelic frogfish and Ambon scorpionfish.
Historical Insights: Dive into the Spice Islands' history with a guided village tour in Banda Neira that includes a nutmeg plantation breakfast and glimpses of Dutch colonial architecture.
Diverse Dive Sites: Experience everything from wall dives adorned with gorgonians and soft corals to the Snake Volcano of Manuk and the chance to spot schooling hammerhead sharks around Serua Island.
Cultural Exposure: Alongside diving, visit local villages, markets, and learn about the Banda Sea's rich historical and cultural heritage.
Vibrant Marine Life: With 35 dives, immerse yourself in diverse marine ecosystems, from walls teeming with life to muck dives revealing hidden critters.
Life on board
M/V Mermaid II is not just a dive boat; it's a luxurious retreat on the waters of Asia. Every aspect of life aboard has been meticulously designed to provide guests with an unparalleled experience.
Accommodation
Deluxe Cabins: Situated on the main deck, these cabins epitomize comfort and luxury. Guests can soak in panoramic sea views through large windows. Whether you prefer a double or twin bed, each cabin caters to your comfort. Guests can enjoy their own personal sanctuary with individually controlled air conditioning and an en-suite bathroom.
Budget Cabins: Perfect for the budget-conscious traveler without compromising on comfort. These cabins are located on the lower deck and feature twin bunks and a vanity sink. Each cabin shares a bathroom via adjoining doors with one other cabin. Like the deluxe cabins, these, too, are fitted with quality bedding and individual air-conditioning controls. As with many boats, the possibility of engine or machinery noise, especially in the lower deck cabins, can be a concern for light sleepers.
Amenities
Dive Deck: A spacious area where divers can prepare, it includes individual gearboxes, camera tables, and multiple rinse tanks. Enjoy fresh towels and a cup of hot chocolate after night dives to warm up post-dive.
Dining: A dining room at the front of the main deck serves buffet-style meals. The culinary delights blend Asian and Western cuisines, with local spices adding an authentic touch. Complimentary beverages range from fresh roast coffee and tea to soft drinks and juices. For those who appreciate wine, a curated selection from Australia, Chile, and New Zealand is available alongside local beers.
Saloon & Entertainment: A vast lounge with large windows ensures guests can relax indoors while enjoying the views. This space doubles as an entertainment hub with a large flat-screen TV, a multimedia center, and a stocked library, including marine life books.
Outdoor Relaxation: Two outdoor decks provide relaxation options. The shade-covered deck boasts cushioned seating, ideal for socializing or enjoying the views, while the sundeck offers cushioned sunbeds for those looking to bask in the sun.
Amenities in Cabins: All cabins, irrespective of their category, come equipped with individual air-conditioning, life jackets, smoke alarms, facial tissues, sundry towels, hand soap, conditioner, shampoo, body wash, hairdryers, wardrobes, hangers, and personal reading lights.
Beverage Options: While non-alcoholic beverages are complimentary, a selection of wines and local beer is available for purchase.
Conclusion: Is it Worth it?
The M/V Mermaid II offers a dive cruise experience that brilliantly straddles the line between luxury and affordability.
While it might not exude the same old-world charm as the wooden sailing liveaboards, it compensates with an longer trips and more dives, ensuring enthusiasts get the most bang for their buck.
The comfort onboard, while not ostentatiously glamorous, guarantees a plush and gratifying journey.
A significant advantage is their extended itineraries, leading divers to pristine, lesser-explored dive spots deep within marine parks, promising an unparalleled underwater experience.
However, potential divers should be aware of the add-on expenses which really do add up to the cost, such as gear rentals, nitrox fees, and marine park taxes.
When budgeting for this trip, considering these additional charges is crucial to ensure a smooth and hassle-free voyage.
All in all, the M/V Mermaid II promises a dive cruise that's comfortably luxurious, incredibly immersive, and worth every penny.