Mexico's Yucatán Peninsula sits on the eastern side of the country between the Caribbean Sea and the Gulf of Mexico.
It's become a beloved vacation spot for visitors from around the world due to its warm climate, white sand beaches, and lush jungles.
The ancient Mayan ruins call up the region's cultural heritage, while the modern Mayans and other locals create a welcoming atmosphere.
With abundant margaritas and delicious cuisine based on traditional maize tortillas and fresh seafood, anyone can find their new favorite dish or drink in the Yucatán Peninsula.
Scuba divers have discovered that the Yucatán Peninsula is an ideal destination for divers of every skill level.
There is a wide variety of dive options to choose from, including coral reefs, shark dives, freshwater caverns, drift dives, and wrecks.
The state of Quintana Roo offers colorful reef dives in Cozumel, Cancún, and Playa Carmen on the world's second-longest barrier reef.
The state of Yucatán and Quintana Roo both offer the unique experience of diving in freshwater caves called "cenotes", one of the most unique diving in mexico, and in the world.
Cozumel
Cozumel is a small island off the coast of Quintana Roo, just south of the infamous Spring Break destination Cancún.
Cozumel arguably has some of the best reef diving in the world. The water is warm all year and the visibility is usually 30 meters (100 feet) or more.
Cozumel is also the drift diving capital of the world! The steady current guides divers over the reef, making most dives effortless.
The reef hosts many species of hard and soft corals that make a home for a variety of tropical species.
You can spot hawksbill turtles, green morays, and seahorses on many dive sites because the national marine park protects all of the dive sites from fishing.
There are shallow reefs and shore dives for beginners and diving courses. Towering coral columns, tunnels, and swim-throughs create dynamic dive sites that you can keep exploring time after time.
For advanced divers, there is a large wreck, sites with challenging currents, and walls that drop thousands of meters into the deep.
Dive sites in Cozumel
C-53 Shipwreck
This ship was a naval minesweeper sunk in 2000 to create an artificial reef and dive site. It's 56 meters (184 feet) long, so there is plenty to explore.
The wreck sits upright on the sandy bottom at 24 meters (80 feet) so advanced divers can navigate the entire wreck while open water divers can stay near the top.
The c53 is modified with large openings for divers to enter, and many of the sharp edges have been removed for safety.
It's the perfect place to earn your wreck diving specialty. Moray eels like to inhabit the ship's many crevices.
Devil's Throat
This site at the southern end of Cozumel features a long tunnel in the reef that divers can pass through.
The conditions at this site tend to be challenging, with shifting currents and complete darkness in the middle of the tunnel.
For these reasons, it's an advanced site that some dive shops only visit on special request. The maximum depth is 40 meters (120 feet) at the end of the tunnel.
Santa Rosa Wall
This site is great for beginners and advanced divers.
The reef starts between 6-15 meters (20-50 feet) while the wall drops thousands of meters.
The reef features coral pillars and sponges that create a variable landscape of swimthroughs along the wall.
Bright tropical species like parrot fish, turtles, and toadfish make their home in the corals.
Cancún
Cancún is a resort town on the eastern coast of the Yucatán Peninsula that offers lots of tourism options both above and below water.
It's a great place for beginner divers because most sites are shallow and there are no walls.
The 20 or so dive sites range from brightly lit shallow reefs to wrecks to underwater sculpture museums.
The reefs shelter tropical species like brightly-colored parrotfish and spotted eagle rays. The water is warm year-round, and visibility ranges from 12-24 meters (40-80 feet).
Dive sites in Cancún
MUSA
This underwater sculpture museum features hundreds of statues of people and objects sitting on the sandy bottom.
The maximum depth is only about 10 meters (33 feet), so it's a great site for divers of any level to explore a truly unique dive site.
Since the sculptures are made of marine concrete, they encourage the formation of new reefs and attract marine life. Divers can expect to see angel fish, stingrays, and eels among the sculptures.
Manchones Reef
This reef is one of the most popular in the area due to its abundant marine life and colorful corals.
Divers can look for lobsters and nurse sharks among the corals, while tangs and wrasses crowd the reef from above.
It even hosts two cement sculptures that add an artistic flair. This shallow reef only reaches 10 meters (33 feet) of depth, so anyone can enjoy it.
Manta Valley
This series of seamounts about 96 kilometers (60 miles) off the coast of Cancún is a specialty dive site that only a few dive shops will take you to on request.
The pinnacles serve as cleaning stations and attract giant manta rays. Since this site has a maximum depth of 30 meters (100 feet), it's reserved for experienced divers.
It's a great place for photography enthusiasts to snap spectacular photos of mantas.
Playa del Carmen
Playa Carmen is a smaller party town south of Cancún, but is still a prime location for beautiful beaches and scuba diving.
From May to September, turtles come ashore to lay their eggs on the beaches. Underwater, you can find the same reef that gives Cozumel and Cancún their impressive dive sites.
The main reasons to dive in Playa del Carmen over another place on the peninsula are the bull shark and cenotes.
From November to March, bull sharks congregate near the coast.
Within the jungles around Playa Carmen are collapsed limestone caves that offer a freshwater diving experience you won't find anywhere else.
These cenotes are part of the world's largest underwater cave system.
The water stays crystal clear and around 24°C (76°F) all year.
Some cenotes are open to the sunshine with abundant plant and fish life, while others are dark caves with impressive geological formations.
Dive sites in Playa del Carmen
Dos Ojos Cenote
The "Two Eyes" cenote is a visually impressive cenote with sharp rock formations and dark passageways that open into large caverns.
Divers who want a taste of true cave diving can get a feel for it in this cenote, where the exit isn't always visible.
There is a bat cave where divers can surface during the dive to watch and listen to the thousands of bats that roost there.
With a maximum depth of 9 meters (29 feet), it's not the deepest cenote, but divers should be very comfortable in darkness and overhead environments.
Dive shops require either an open water or advanced certification for cenote diving.
The Pit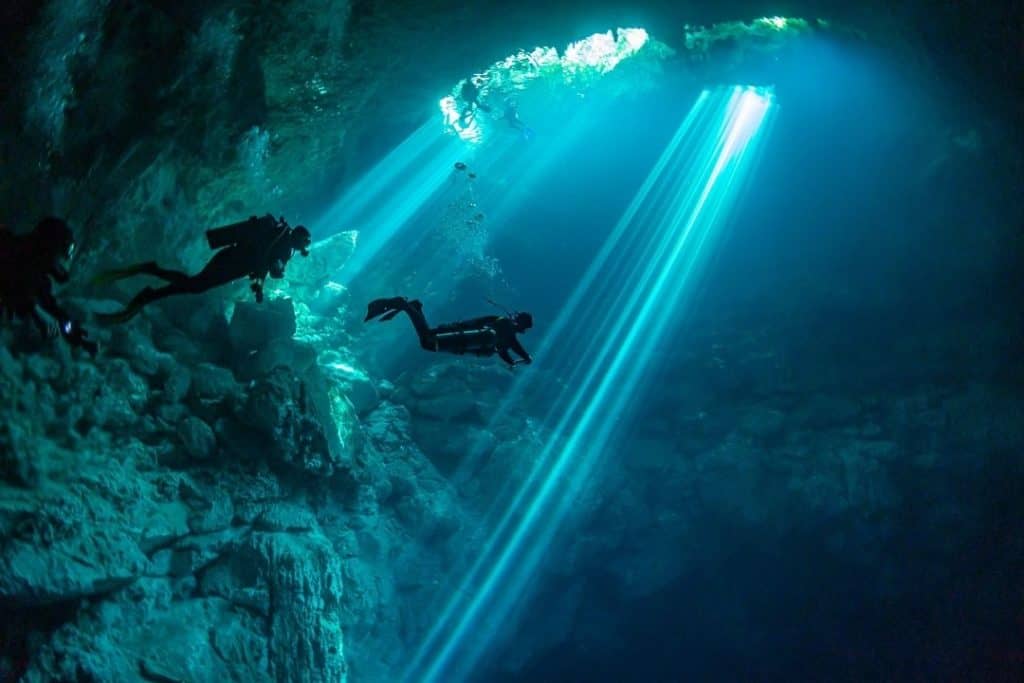 The world's largest underwater cave is a deep and wide cavern with a maximum depth of 40 meters (120 feet).
The cavern features a white hydrogen sulfide cloud around 30 meters which divers can pass through.
Dead branches peeking through the cloud give the eerie impression of a foggy forest.
Circling the cavern with your guide, you'll see the sun rays shine straight from the entrance to the bottom, creating a unique visual effect.
See my article about the best cenote dive sites for more underwater cavern destinations.
Bull shark dive
From November to March, bull sharks congregate close to the shore.
They can reach a length of over 3 meters (10 feet) and have a reputation for being aggressive predators.
Despite this stereotype, divers know that sharks simply aren't interested in bothering people.
Sharks are among the most striking and exciting creatures to witness underwater, so adventurous divers should take advantage of the opportunity to see them close up in Mexico.
Some dive shops require an advanced certification for bull shark diving.
Mérida
Mérida is the capital of the state of Yucatán near Mexico's Gulf Coast. If you're looking for a major city as your dive hub, Mérida is a great option.
This city features Spanish colonial architecture mixed with Mayan history and is a good place for cultural activities like museums and ruins.
Cenotes diving is the most popular tour from Mérida as the city is surrounded by jungle with cenotes underwater caves dotting the landscape.
Tour operators drive you from your hotel out into the forest, where you can choose from easy, shallow cenotes or deeper dive sites and caverns.
The more secluded and darker cenotes rarely have much marine life, but divers can occasionally see small crustaceans or blind fish.
The open cenotes that receive more sunlight are often full of plants and small colorful fish.
There are also scuba dive sites around islands in the Gulf of Mexico, but they are fewer and harder to reach.
Diving sites in Mérida
Alacranes (Scorpion) Reef
The largest coral reef in the Gulf of Mexico is located 109 kilometers (68 miles) off the coast.
It's made up of five islands with vibrant corals and shipwrecks, and the reef is teeming with marine life including turtles and marine mammals.
This site isn't on many dive shops' itineraries and dive destinations, it is only accessible by liveaboard diving.
Cenote Nohmozon
A wooden staircase leads down to this cenote with a maximum depth of 45 meters (147 feet).
There are shallow areas to explore, as well as deeper passages for advanced divers.
Some divers have seen human skulls in this cenote, possible remnants of ancient Mayan sacrifices.
This cenote features convenient bathroom installations and palapas for divers to gear up.
How to Get To Yucatan
The Yucatán Peninsula is easily accessible through its many international airports, cruise ship ports, and highways.
It's possible to drive in from anywhere in North America, but most travelers choose air or sea routes.
Cancún has a major international airport that receives flights from Europe, the U.S., Canada, and Latin America all year. Cruise ships port in Cancún, so cruising in is also an option!
Playa del Carmen is located about 70 kilometers (43 miles) south of Cancún's international airport.
Upon arriving in Cancún, travelers can take a taxi, bus, or rental car down the coast.
Cozumel is located off the coast of Playa del Carmen and is accessible by ferry, cruise ship, or flight.
The ferry from Playa Carmen takes 45 minutes is only about $10 each way. Many popular cruise lines make a stop in Cozumel and will give you time for a dive trip.
Cozumel's airport receives flights from select cities in the U.S., Canada, and Mexico.
Mérida can be reached by air, sea, or land. It has an international airport with flights from the U.S., Canada, and Mexico.
The nearby port of Progreso receives cruise ships and is under an hour's drive from Mérida. Mérida is also under a four-hours away from Cancún by car.
Where to Stay
Cancún
· The most popular tourist area of Cancún is known as the hotel zone located on barrier islands in front of the mainland.
This area has beautiful beaches and is full of resorts, restaurants, and nightclubs.
Further toward the center of Cancún, the downtown area has more of a local atmosphere with budget accommodations, markets, and authentic food.
· Luxury: Majestic Elegance Costa Mujeres
Cozumel
· Cozumel is a small island and San Miguel is its only town. The town center is near the ferry port, where you can find the majority of the restaurants, hotels, and bars on the island.
There is a more exclusive hotel corridor along the coasts leading away from town.
· Mid-range: Albatros Suites
Playa del Carmen
· Playa del Carmen is a small beach town with accommodation options in the center and by the beach. North and south from the town center along the beach, you'll find less crowded beaches and luxury resorts.
Within the walkable town center, there are affordable places to stay, shops, restaurants, and nightclubs.
· Budget: Happy Gecko
Mérida
· Mérida's central Zocalo area has the largest variety of places to stay, from backpacker hostels to luxury hotels.
It's the most touristy area but features a large plaza and many attractions. The central area outside the Zocalo is also a convenient place to stay, where you can see cathedrals and museums.
Mérida has other neighborhoods like Santa Ana and Santa Lucia for travelers looking for a more authentic experience and arts districts.
· Mid-range: Casa Del Maya Bed & Breakfast
Recommended Diving Clubs
Cancún:
Scuba Cancun offers tours to popular reefs and shipwrecks, certification courses, discover dives, and specialty courses.
They have a fleet of boats specially outfitted for scuba diving.
As a safety conscious dive shop, they even purchased a hyperbaric chamber for the security of all divers in the Riviera Maya.
Cozumel
Deep Blue is a full service dive shop that takes divers to popular reefs and less common sites for advanced divers.
They offer private charters, hotel packages, scuba dive courses, and a retail shop. The dive center is conveniently located close to the ferry pier.
Playa Carmen
With Scuba 10, divers have the option of diving with bull sharks, on coral reefs, or in cenotes.
They are a part of the shark protection association in Playa Carmen that works with local fishermen and the government to promote safe shark tourism and protect the sharks.
They also offer beginner dives and certification courses.
Mérida
Explorer Divers offers tours to cenotes close to Mérida for both beginners and experienced divers.
They pick you up from your hotel in Mérida for a complete tour including all gear, snacks, and drinks.
This dive center offers courses uniquely available in the cenotes, such as cavern diver, full cave, and sidemount specialty.
Frequently Asked Questions
Do I need to be certified to dive in the Yucatán Peninsula?
You don't have to be certified to dive in the Yucatán Peninsula.
Whether you choose to dive on reefs or in caverns, there are dive shops that offer courses for every experience level.
You can do a discover dive without getting certified, but if you have a few days, taking the open water certification course is well worth it.
Many dive shops offer specialty certifications for wrecks, caves, and technical diving. Some dive shops even offer professional courses for divers who want to become divemasters or instructors.
Is it safe to dive in the Yucatán Peninsula?
Mexico often gets a bad reputation abroad for being dangerous to visit. The truth is that the Yucatán Peninsula has become a safe destination for all tourists, including families and solo travelers.
Just like any other country you travel to, staying aware of your surroundings and keeping your valuables protected will go a long way towards ensuring that you don't have any safety issues.
Diving in the Yucatán Peninsula is safe as long as you stick to the limits of your training and follow your guide's instructions.
The conditions in the Caribbean tend to be easy, with good visibility and mild current.
Cozumel can have challenging currents at certain dive sites, so it's up to your dive operator to verify that conditions are safe and to require an advanced certification for some sites.
The walls on Cozumel sites are very deep, so make sure that you keep an eye on your computer's no stop limit or stay at your guide's depth.
Anywhere you dive, it's important to find a dive shop with a good reputation and to establish trust with your dive guide so that you feel confident.
Is it safe to dive with bull sharks?
While bull sharks are a more aggressive species, people are not in their diet. Divers will tell you that sharks of any species are generally skittish underwater.
Horses, dogs, and cows are more dangerous to people than sharks.
Some dive operations bait their bull shark dives to attract the sharks.
This is a controversial practice because, although it protects the sharks as a source of income through eco-tourism, it does alter the natural order of the ecosystem.
It can also make the sharks more aggressive. Some dive shops don't bait the dives, so you're free to choose what kind of experience you want.
The bull sharks that come to the coast of Playa Carmen are mostly calmer juveniles and pregnant females, while the more territorial males remain in deeper waters.
Is it safe to dive in cenotes?
Unless you earn your full cave certification, you'll be doing cavern dives in cenotes. This means that you stay within 60 meters (197 feet) laterally of the entrance and don't descend more than 30 meters (100 feet).
The caverns you'll explore are fully mapped and you'll be provided with a flashlight for dark areas. You'll go with a guide to avoid getting lost.
The most difficult obstacle for divers to overcome is usually their own fear of enclosed spaces and darkness.
If you can stay calm and follow instructions, cenote guides are well-equipped to help you have a safe and fun experience.
There are also shallow and well-lit cenotes, so you can choose the kind of cenote you want according to your comfort level.
Cave diving, on the other hand, is technical diving and requires intense training from specialty dive organizations.
Cave diving is more dangerous than cavern diving, so it requires extreme care, dedication, and commitment to safety to become a cave diver.
How much does it cost to dive in the Yucatán Peninsula?
Scuba diving is affordable in the Yucatán Peninsula. A one-tank night dive can cost as little as $55, while two tank dives are usually between $90-150 in most dive centers.
There are many options to get discounted scuba dive packages for multiple days of diving, and some dive shops also offer discounted hotel stays with their dives.
Private and luxury charters are also available in almost any area for $400 or more. Some resorts offer all-inclusive dive packages with unlimited diving for $600-1000 or more.
Scuba diving courses generally cost a few hundred dollars, while intensive cave diving courses can cost over $1000. Whatever your budget, you can find a tour that's right for you.
What's the best time of year to dive in the Yucatán Peninsula?
The Caribbean Sea is great for diving all year because the water temperature remains between 25-30°C (77-86°F). The cenotes vary even less at 24°C (76°F) all year.
The Yucatán Peninsula has a tropical climate with a rainy season from June to October. During this time, the air and sea temperatures are at their warmest, and rain showers pass over a few times a day.
The air temperature averages 27°C (81°F) but can be hotter inland. August and October are the peak hurricane season, when prices are low and the crowds are smaller.
December to February is the dry season when the air stays around 25°C (77°F). This is the peak high season, which means larger crowds and higher prices.
Conclusion
The Yucatán Peninsula is a top dive destination for good reason.
The wide variety of dive sites and year-round good weather mean that anyone can find the right time and place to dive.
Whether you want to see large predators, caverns, wrecks, or colorful reefs, the Yucatán Peninsula is waiting to give you a memorable experience.
Is there a dive site you would add to the list? Leave a comment below!