Texas is the second largest state in the United States and hosts over 60 million tourists per year.
It goes without saying that everything is bigger in Texas, including the unique scuba diving opportunities that are available in this larger-than-life state.
Texas covers more than 268,000 square miles, which is more than 7.4 percent of the entire surface area of the United States.
With this, Texas has a large variety of diving spots from lakes to rivers to freshwater oil silos!
There is something for everyone, from beginners to professional level divers.
Aside from the inland dive sites, just offshore lies a unique coral reef in the Gulf of Mexico, which can be accessed by boat outside of Houston, Texas.
Don't know what to do in the last few weeks of summer? Need a great weekend plan to remember for the rest of your life?
The best scuba diving in Texas offers visitors sunshine, adventure, and exotic marine life.
You don't have to break your bank account by spending your savings on a pricey tropical trip.
Texas has an amazing array of diving spots and above water experiences for every member of your family.
You may be surprised to learn that Texas is known for its large variety of bass that swim in almost all freshwater locations found in the state.
You can find catfish, bullhead, carp, sunfish, minnows, suckers, and all sorts of bass types. Texas also has crab, turtles, trout, eel, snapper, and flounders.
It's safe to say that there are many dive sites available to experience the best scuba diving in Texas.
Having been born and raised in Texas, I've been to my fair share of dive sites. Here are some of the most famous sites in the state!
San Solomon Springs in Balmorhea
The San Solomon Springs in Balmorhea State Park is a spring-fed, clear-blue oasis in the middle of the desert.
It sits at a constant 72-degrees and is just the right temperature to keep you cool and refreshed.
After traveling through the hot desert, you will be able to take refreshing dives in the cool water of San Solomon Springs.
This is the perfect spot for divers and non-divers. 
If scuba diving isn't your thing or some of your family members don't partake, anyone can splash near the surface on the shallow, concreted end, while the scuba divers can explore the rocky depths and natural sea life.
Scuba divers will be able to explore the natural marine life like the famous Comanche Springs Pupfish and the rocky depths of the spot.
This area is one of the coolest inland freshwater diving sites in texas, it has a huge concrete basin, which is home to many fish, such as pupfish, catfish, and crawfish.
And, if you don't feel like lugging your scuba gear around, you can rent some at The Toyahvale Desert Oasis shop right across the street from the site.
Location: 9207 TX-17 Toyahvale, TX 79786 (click to open in Google maps)
Valhalla Missile Silo in Abilene
The Valhalla Missile Silo is one of the rarest, and also definitely the most adventurous places to dive in the west texas desert.
In the 1960's, the silo housed an Atlas nuclear missile but today its concrete walls hold 120 feet of ground water that are perfect for exploration.
At 58 degrees, it's safe to say that this dark swim is the perfect way to take a deep dive into Abilene's rich history.
The water here is 58 degrees, so it is definitely colder than many other sites in the state. With this in mind, make sure to wear a thicker wetsuit.
And it's only open to private groups, so call the Family Scuba Center in Midland to make reservations.
Location: 8466-8472 US-277, Wingate, TX 79566 (click to open in Google maps)
Blue Lagoon in Huntsville
There is a beautiful swimming hole with bright turquoise water and sandy beaches hidden beneath the trees of Huntsville. Some say that it rivals the shores of Cancun.
Here, you will be able to scuba dive, swim through, and explore sunken wooden ships at the Blue Lagoon. This site is perfect for both beginners and advanced divers.
They even allow those who don't scuba diver into the water, but the capacity for swimmers and divers alike is limited so make sure to call ahead.
If you're looking for scuba diving lessons, they're offered every weekend with rental gear on site.
Location: 649 Pinedale Rd, Huntsville, TX 77320 (click to open in Google maps)
The Texas Clipper near South Padre Island
It's widely known that the Texas Chipper offers the best scuba diving in Texas for people who want to explore sunken ships and get into wreck diving.
It's also important to note that it's located on the United States' third-largest artificial reef.
The Texas Chipper is one of the most interesting boat wrecks in texas, it was a historical ship that served under the U.S.S. Queens.
It used to transport troops during World War II and now lies underwater nearly 17 miles from the coast of South Padre Island.
The diving experience is very memorable because you can explore multiple levels of the Texas Clipper.
The large size of the ship makes it fun to dive since it's similar to exploring a huge underwater museum.
Many people come back time and time again to fully admire and take in the expansive ship.
Location: 33256 State Park Rd 100 #104, South Padre Island, TX 78597, USA
The Scuba Ranch
The Scuba Ranch, formerly called the Clear Springs Scuba Park, is a spring-fed lake which stretches across 22 acres.
This area is known for its beautiful collection of underwater habitats and marine life. The freshwater diving experience of Texas is simply one experience that everyone needs to have once in their lives.
The Scuba Ranch is also home to the "largest freshwater shark in North America", Sisco the Shark. But don't worry, he's friendly!
And, for those travelling with family, the freshwater of this Texas lake also has plenty of other fun activities, such as paddle boating, kayaking, and swimming.
If that's not enough to get you excited, many travelers also camp out under the stars here, hosting bonfires and enjoying the sounds of Texas at night.
Location: 8131 Co Rd 346, Terrell, TX 75161, USA
The Flower Garden near Houston
The Flower Garden was discovered by a group of fisherfolk in the 1800s. This diver's paradise is known as the spot for the best scuba diving in Texas.
The Flower Garden takes after its names since it is surrounded by gorgeous colorful reefs and some of the best marine life found outside of the Coral Triangle in Asia.
Marine life includes whale and hammerhead sharks!
This thriving diving spot is definitely a sight that can't be missed by dive enthusiasts who are visiting the area.
It's important to note that this area is located outside of Houston Texas at its coast-side area of Galveston, Texas.
There, you will board a liveaboard and spend a few days diving and fishing this magical place.
I've had several friends explore the Flower Garden banks and all came back with incredible stories and photos taken of marine life.
With three separate areas, which are the East Flower Garden Bank, the West Flower Garden Bank, and the Stetson Bank, there is never a shortage of exciting marine life to see.
Location: 4700 Avenue U, Galveston, TX 77551, USA
Athens Scuba Park near Athens
Just half a mile from the Athens, TX town square, you'll find an incredible Mediterranean-blue lake filled with sunken planes, boats, obstacles and more for discovering.
Athens Scuba Park is a great dive site that divers of all experience levels will love to explore.
There are 35 wrecks located here and you'll get to interact with all of them while diving this area. There are many types of bass that love to call this area home as well, so there so plenty to see and do!
This seven-acre lake is also famous for its night diving. Exploring the sunken wrecks during the night-time gives it a different vibe and this scene is simply magical at night.
This is a great place for beginners as well, because Athens Scuba Park offers Open Water Courses and rental gear on the property.
Location: 500 N Murchison St, Athens, TX 75751, USA
Meadows Center in Spring Lake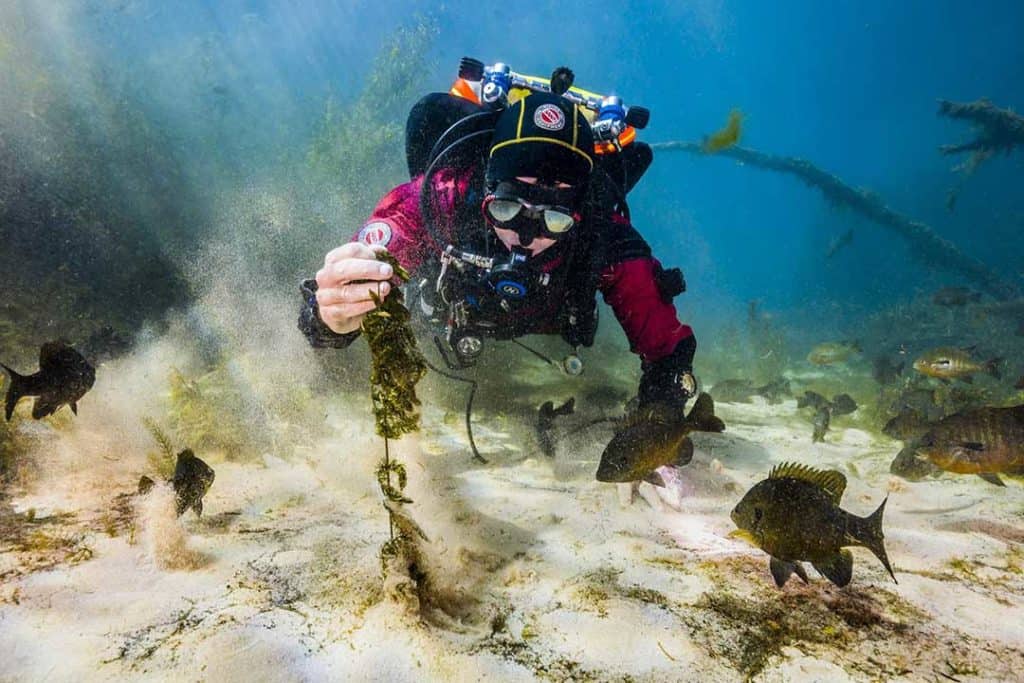 The Meadows Center is known as one of the best spots for scuba diving in Texas. It's located right next to the beautiful river which runs through the campus of Texas State University, which just so happens to be my alma mater.
The University uses this area to certify open water students as a part of their degree curriculum and I've had many friends get certified here.
The water is a cool and nice 72 degrees Fahrenheit all year around, with this spring-fed lake having a maximum depth of 25 feet, and the visibility being very clear.
It's really a beautiful lake and feels almost like being in a fairy tale, as all of the grass is very green underwater and there's many colorful fish.
There are even a few training areas, including tires and steel triangles that can be swam through to practice buoyancy.
It has an amazing water education center that beginners can benefit from. However, to dive into the water, you will have to pass their Scientific Diving course.
The cost for this course is $250, which is why this area is most frequently visited only by diving enthusiasts who are interested in this course.
The lake often has tourists riding boats with glass bottoms, so it is always fun to see the tourists waving from above and to wave back. It almost feels like you're in a fishbowl!
The pristine conditions of the lake are why divers flock to this area to explore.
Location: 211 San Marcos Springs Dr, San Marcos, TX 78666
The Windy Point Private at Lake Travis
Windy Point Park is perfect for scuba divers who want to perfect their skills.
Beginners can train and work on different scuba diving skills such as navigation, buoyancy control, search and recovery, and many other skills!
In fact, I actually achieved my entire Divemaster certification in this exact location while living in Austin, Texas!
It's about a 45-minute drive from downtown and a great training location for those wanting to get certified before travelling or just wanting to keep their diving spark alive with living inland in this area.
However, this doesn't mean that you are diving in a boring location by any means.
In fact, the Windy Point is the one of the best dive spots in central texas area, it has different sunken boats and underwater attractions that you can explore, as well as turtles and many fish. 
This area is also a privately owned park, which allows camping, and many divers stay overnight and enjoy the lake at night as well. This is a great, affordable diving spot for all kinds of divers.
Address: 6506 Bob Wentz Park Rd, Austin, TX 78732
Reveille Peak Ranch in Burnet
Reveille Peak Ranch is an old quarry in the countryside outside of Burnet, Texas. The lake has plenty of space for beginners to learn and practice their buoyancy and skills.
There is also a vertical wall that drops down to 80 feet without any shallow edges, so it's important to dive with someone who knows what they're doing if it's your first time here.
Reveille is located on private property, so a booking is required to dive at this site.
Address: 105 Co Rd 114, Burnet, TX 78611
Comal River in New Braunfels
The Comal River is a great spot for divers who love diving in a current.
It has a maximum depth of 13 feet, and you basically just kick back and enjoy the current in the underwater environment.
Since the river is spring fed, the temperature stays constant all year round.
This is a popular 'tubing' location, meaning a place where people rent inflatable tubs and enjoy the sun and current in groups.
Because of this, it's a fun spot to find fish and small animals that hide among the tubers and vegetation in the river. Just watch your head so you don't get kicked by accident!
Also see the san marcos river for a similar setting.
Address: Hinman Island Drive, New Braunfels, TX 78130
Seven and One-Half Fathom Reef
The Seven and One-Half Fathom Reef is known as a playground for schools of grouper, sea horses, and purple morays.
Seven and One-Half Fathom Reef is a dive site that's located on the continental shelf of the northwestern Gulf of Mexico.
It is located in south texas 3.2 kilometers offshore by boat from Padre Island, Texas.
The reef is a colorful underwater world with an elongate structure with four distinct rises and is swimming with marine life.
You'll see mollusks, tropical fishes and invertebrates and other magical marine life frequenting the reef.
There are near-shore oil platforms and jetties in this area as well, whale sharks and other bigger aquatic life sometimes make an appearance.
Recreational scuba diving and fishing are the most common activities here and there are plenty of charters that would love to take you there!
As an added bonus besides the coral reefs, South Padre is a fun and funky little beach town to explore while your top side.
This is the spot we all visited for Spring Break '09 while I was at Texas State!
Location: Offshore from South Padre Island, TX
Inks Lake near Austin
Inks Lake is an incredibly gorgeous oasis and is only about 50 minutes from Austin, Texas in a state park.
The amazing rock formations in the lake are home to a variety of fish and wildlife. You'll find striped bass swimming in the water and many other critters. The lake is 60 feet deep and a great location for seasoned and beginner divers alike.
This area is incredible for camping and exploring, so if you make the trip here, I definitely recommend spending the entire weekend and seeing all that the state park has to offer.
It is important to bring your own tank of air since diving facilities in the area are limited.
Address: 3630 Park Rd 4 W, Burnet, TX 78611
Tips for Scuba Diving in Texas
The most important concern while diving should be safety.
In smaller, freshwater environments, there are definitely safety items you should be aware of. So, make sure to check the reviews of your texas parks diving destination and get a safety briefing if possible.
Make sure to check your diving equipment carefully before diving, as any fault could be dangerous. In freshwater locations, there likely won't be a crew around to help you if you run into trouble, so be sure to bring first aid equipment.
Cover all your wounds before you go for a dive, as your skin is prone to infection in freshwater and saltwater environments alike.
___________________________________________________________________________
We tend to think that scuba diving only exists on exotic islands like Malta or Aruba, but there are plenty of amazing underwater sights in the continental U.S., too, including in the lone star state.
The best scuba diving in Texas offers a huge array of exploration and gorgeous wildlife. You will definitely have a larger-than-life experience while visiting Texas!
And don't forget to stop for some of our incredible BBQ post-dive!