Scuba diving is a wonderful sport, even a lifestyle to many divers. It helps with our physical and mental fitness, and allows us to explore a seldom seen world.
Many potential divers never experience this undersea world because they do not understand the cost involve.
How much does it cost to scuba dive?
The cost to learn to scuba dive will be between $350 and $700. You may pay as little as $10 to do a shore dive, and between $50 and $150 for a two tank boat dive. Rent your gear for between $20 to $40 a day, until you are sure you want to buy your own.
These amounts may be staggering to many. The numbers themselves, however, do not tell the entire story.
When you look into the cost in more detail, you may start to understand the value you may achieve in becoming a certified scuba diver and diving frequently.
What Is The Cost To Learn How To Scuba Dive?
Scuba diving, skydiving and flying have a common trait. They are all safe activities because there are training requirements to minimize the risk.
To be very frank, trying to scuba dive without being trained will likely lead to a serious injury even death.
Proper training changes that to a point where scuba diving is safer than horseback riding or even golf.
There is an international standard, ISO 24801, that outlines the standards of training for scuba diving.
Diver Level 1, Supervised Diver, allows you to dive with a dive professional. Some organizations refer to this as Scuba Diver.
Diver Level 2, Autonomous Diver, allows you to dive with a dive buddy that is not a dive professional. This level is commonly called an Open Water Diver.
The Scuba Diver training is the first half of the Open Water Diver training. Most divers skip the scuba diver training and start with the Open Water Diver.
The Open Water Diver training program consist of three segments.
The academic can be in a classroom setting, however, it is now more common for it to be a online learning experience.
A confined water segment is two sessions in a pool or other calm water where you will learn some basic skills. There are four open water sessions where you will refine the basic skills and experience diving.
The cost of taking an Open Water Diver course varies greatly with location and the size of the class.
The documentation fees, that are included, will be the same everywhere. The rental equipment that you will use will not vary much, and is included.
The cost of the time of your instructor is the biggest variable.
Places that are more expensive to live or visit will likely have higher prices.
The price range to learn to dive in the United States will range from about $400 to $700.
Taking a dive course in a popular Caribbean location such as Cancun, Cozumel or the Grand Cayman, will be slightly less in the range for $350 to $600 USD. In Europe look for a range of around 500 € to 750 €.
While learning to dive in Iceland generally includes a dry suit certification and will run from 95.000 Icelandic Króna to 13.000 Icelandic Króna roughly $750 to $1,000.
If you are looking for an exotic and inexpensive destination, then Southeast Asia is your destination.
Thailand, Philippines and Malaysia have many destinations where you can learn to dive from about $300 to $450.
If you want to learn how to scuba dive and add some bragging rights, a number of dive centers in Australia offer Open Water Diver courses where your open water dives are done on a liveaboard diving the Great Barrier Reef.
These courses average 950 AUD. That is about 675 USD.
If you feel uncomfortable making such a large financial commitment on something new, consider doing a discover or try diving class.
These half day classes will allow you to experience diving without the full cost of training. In many cases, the cost can be applied to the tuition of a certification class.
How Much Does It Cost For Each Dive.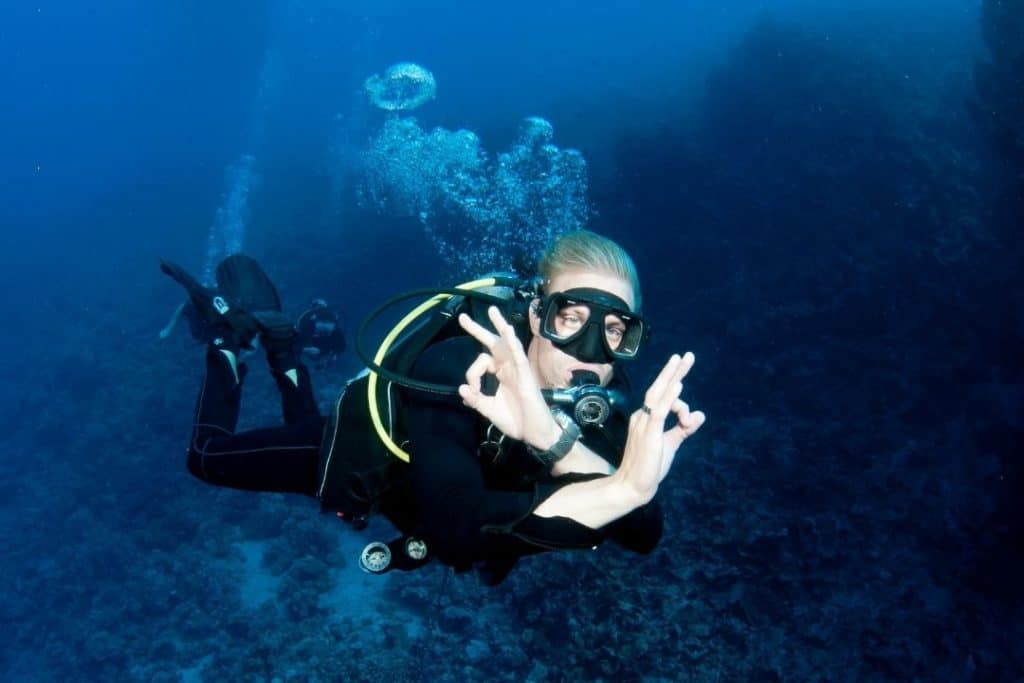 The cost for each dive will vary greatly depending on a number of factors. These factors include location, if equipment rental is needed, if a dive guide is needed, whether it is a boat dive or shore dive and any conservation fees.
We will discuss buying your own gear or renting it later, for now lets start with some basics.
A basic 2 tank dive can cost anywhere from $10 to over $150. That broad range does not really tell us anything.
If you and your dive buddy have your own equipment and are doing a shore dive, the only cost will be getting to the dive site, any park or entrance fees and your air.
Few divers own their own scuba tanks, opting for renting filled tanks instead.
The price difference is at the most just a few dollars. A air fill will cost in the range of $5 to maybe $25, with Nitrox being an additional amount.
My local dive center offers fills at $15 and a filled tank rental at $20.
Bonaire is considered the shore diving capital of the world. Many of the dive centers there have a drive up service, where you can get a filled rental at $10. Some the centers even have unlimited offers as low as $30 a day.
The 2 tank dive is the most common boat diving offer you will find and a better deal then a single tank dive.
In most cases these include the dive tanks and weights. You will find dive boats that offer charter service that do not provide the tanks.
In Key Largo Florida you will find the average price for a 2 tank boat dive with air and a dive guide to be around $70.
You will find similar prices in the Caribbean side of Mexico. In Hawaii, you may find the prices about double, with an average cost being around $145.
Dive prices in the UK hover around £70, about 90 USD, for a 2 tank boat dive.
Much of the diving in the UK is done with dive clubs, which offer lower prices to their members.
Diving in Costa Brava or Mallorca Spain is a little cheaper where will see a price around €75 about 85 USD for a 2 tank boat dive.
South East Asia's prices are lower for the boat dives. While prices vary by locations, it is not uncommon to find the average price for a 2 tank boat dive to be around 50 USD.
Equipment Cost
Scuba diving requires some specialized equipment, some of which can be very expensive. Divers often ponder whether they should rent gear or buy it.
There are many factors involved with the decision to purchase your own gear. Divers who are active diving locally will likely benefit having their own gear. While those that travel to go diving or do not dive as often may be better off renting their gear.
To give an idea of cost, a day's rental of scuba gear with range from $20 to $40.
The cost of getting your own gear will be at least 500 USD and can be much more depending on the gear you buy.
Unlike other cost, equipment cost do not vary much between destinations.
Yes, Scuba Diving Can Be Expensive
At first glance, the cost can seem high.
There are a few things to consider. The training cost are a one time expense unless you want to explore additional skills.
Unlike a driver's license, it does not expire. Compared to Golf, Scuba diving is not that expensive. Take a look at green fees and club rentals.
Horseback riding is very popular. You can easily spend more on an hour trail ride on horseback than a 2 tank dive.
Scuba diving also enhances your life. You learn more about the world and maybe even yourself. Those types of experiences are priceless.
Feel free to add your comments!