Honduras is a beautiful island country, which sites between Guatemala and Nicaragua in Central America.
It boasts amazingly clear waters and 669km of Caribbean coastline. Not to mention, this paradise comes at a fraction of the cost of nearby Central American destinations.
The best diving in Honduras is undoubtedly in the Bay Islands.
These islands are comprised of Utila, Roatan, and Guanaja.
It's important to note that this area is also a part of the southernmost portion of the Mesoamerican barrier reef, the largest barrier reef in the Western Hemisphere and the second-largest reef in the world.
Although most have heard of either Utila or Roatan, and they're both great for diving, you must be made aware that they are completely different as far as holiday destinations go.
Roatan is considerably more developed, with twice-weekly cruise ships and American honeymoon tourists:
Because of this, Roatan has a much higher price for accommodation and tours than Utila.
Opposingly, Utila tends to attract budget travelers or 'backpackers.' The shore is lined with dive centers, where many obtain Scuba Instructor certifications for great prices:
The bar scene is alive and well in Utila, and this is definitely the recommended spot for singles.
For diving and accommodation, Utila is the best bang for your buck. In Roatan, your best value is going to be at one of the all-inclusive dive resorts.
The outstanding reef systems at both locations draw divers from all over the world, and the islands have become very popular for dive activity.
That said, the Bay Islands of Honduras has over 200 dive sites for you to choose from, and every type of dive you could hope for from reefs to wrecks!
While diving in Honduras, you'll see vibrant coral, multicolored tropical reef fish, huge and pelagic fish.
You may also be lucky enough to see manta rays, sea turtles and, especially from mid-February to April, whale sharks.
If you're lucky, you'll also see bottlenose dolphins, Caribbean reef sharks, stargazers, long snout seahorses, jawfish and spoon-nose eels.
Let's take a deeper look the scuba diving at each of these incredible islands in Honduras.
Scuba Diving in Utila, Honduras
As previously mentioned, Utila definitely attracts budget travelers and has everything you can expect, such as diving, bars, and hostels.
This destination is perfect for single and young travelers.
Utila is the closest island to the mainland and is also the smallest island at under 10miles long.
You can get here by plane, but the majority of adventurers will be heading here by ferry from La Cieba on the mainland.
Once on the island, there are tuktuks or 'taxis' that you can take around, however, everything is very close in proximity and you can easily walk. 
Some of the most popular sites in Utila include:
Black Hills The most popular dive site
This site is located off of the Eastern coastline and is very quick and easy to get to. You can expect to see parrotfish, Creole Wrasse, Scorpion Fish, Grouper, and other colorful reef species here.
This site includes an exciting combination of cave systems that lead to sandy flats, where many moray eels love to reside. This site is around 10 meters deep and is a great spot for beginners!
This site is comprised of a black coral wall, which gives a very mysterious vibe. Usually, black coral only lives between 50-500 meters, but it's present here at around 20 meters. Atop the wall dives, the coral is a vibrant shallow reef with many colorful species to be found as well.
This site starts at 5 meters and is an amazing maze of canyons and tunnels that can be followed to the exit at 12 meters deep. This network of tunnels takes you from one side of the reef to the other side, with beautiful natural light illuminating your path. The site is named for a number of dolphin skeletons found within the caves.
This wreck is a 30-meter-long supply vessel that was purposefully sank as a artificial reef in 1998. You'll find shrimp hiding in the cracks of the vessel and large schools of pelagic fish circling the bridge here.
Recommended Dive Shop: Underwater Vision
Recommended Accommodation:
Scuba Diving in Roatan, Honduras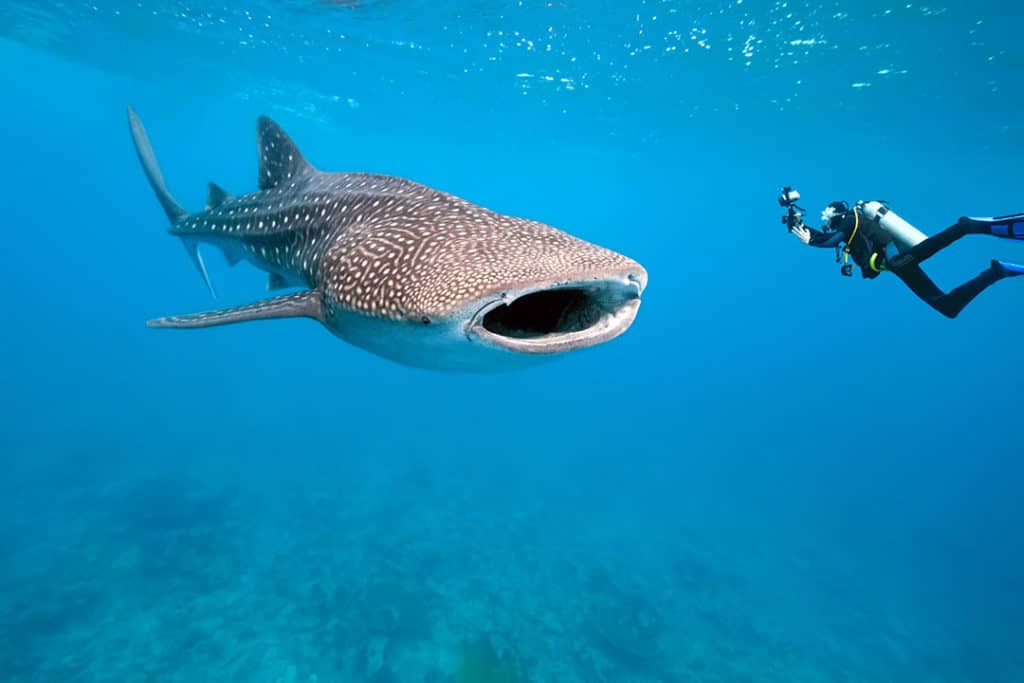 The island of Roatan harbors shallow reefs and plummeting wall dives, as well as macro critters and encounters with the majestic whale shark.
This island is perfect for beginner and advanced divers, as it has a little bit of everything: coral gardens, shipwrecks, sand flats, shark dives, and more.
As previously mentioned, Roatan tends to attract cruise ship travelers, honeymooners, and families who love all-inclusive resort experiences.
This includes all-inclusive scuba diving experiences. There are many more choices for food, hotels, bars, dive shops and activities than in Utila for this reason.
This is by far the most popular Honduran island, as it's about 40 miles in length and has many homes looking over the coastline on its West side.
With this higher development comes a slightly higher price tag, but not to worry, there are many options in varying price tags for everyone.
The real luxury to Roatan is all the choice it provides while maintaining the air of island life.
It's also important to note that there are many excursions here that center around marine, ecological, and exploratory life of the islands.
So, if you're into educational vacation experiences, this is a great spot!
Some of the most popular sites in Roatan include:
Mary's Place the most popular dive site
This site is a favorite among locals, with the reef starting at around 6 meters. There are many cuts and crevices to be found in this reef, creating canyons that reach as deep as 27 meters. The cliffs make for a fun photo, as divers can touch both walls at the same time. You will also find sponges and black corals in this area.
This site is named for two currents connecting the island on the western tip. The two currents create a large diversity of marine life, and it's awash with many varieties of schooling fish.
This wreck is a large cargo ship, whose name in Spanish means "the eagle." It was intentionally sunk in 1997 and rests at 30 meters on a sandy bottom in three separate sections.
The half moon bay wall dive site is must for any dive to Roatan. You'll find many grouper and parrotfish in the shallower area. But deeper, parallel to a sloping wall, you'll see changes into a deeper ecosystem, complete with enormous corals, orange ear sponges, and sea fans. 
This wreck is close enough to be a shore dive for guests at CoCo View Resort. The ship sits in the channel just past the resort's house reef, and when visibility is good, the entire 140-foot tanker can be seen from the surface.
Many divers and ocean lover's dream of whale shark sightings, and this bucket list scuba dive item can be achieved in Roatan! Whaleshark sightings are common in the Bay Islands. This is one of the best dive sites to see them. They are most often seen February through April and August through October but can make an appearance anytime.
"Cara a cara"
Spanish for "face to face," this refers to a shark dive on Roatan's south side, which lets you get up close and personal with half a dozen or more reef sharks, and if you're lucky, a scalloped hammerhead as well!
Recommended accommodation:
Scuba Diving in Guanaja, Honduras
Guanaja is the most remote of the Bay Islands and includes shallow reefs, wrecks, volcanic outcroppings, and walls.
Guanaja's fringing reef is a protected marine reserve making it an ideal spot for scuba diving and snorkeling pretty much anywhere around the island.
Dive sites ring the island and innumerable cays encircle the island, forming an ideal habitat for reef species and crustaceans.
From tiny nudibranchs to Caribbean lobster, there are more than 300 identified fish species in this area.
Scuba divers frequently see Angelfish, Hamlets, Butterflyfish, Creole Wrasse, Grouper, Jackfish, Moray eels, Octopus, Parrotfish, Nurse sharks, and more.
Additionally, the reef system is ideal for macro and wide-angle photography.
There is also a shipwreck, Spanish cannons and a 16th century bell to explore among a large variety of fish and thriving coral life. This dive is the perfect underwater photography opportunity!
There are 50+ named Guanaja dive sites and more sites are being discovered every day along the barrier reef off Guanaja and around the numerous cays that surround the island.
Day boats tend to stick to a single side of the island, but the Roatan Aggressor travels the entire area.
This liveaboard will let you experience the best of Roatan and will take you to nearby Utila and Cayos Cochinos as well.
It's important to note that the Roatan Agressor is the only liveaboard that currently sails these islands.
Some of the most popular sites in Guanaja include:
This site is famous for its cracks & crevices. The maximum depth reaches 21m. This is known as a great practice dive before heading to Black Rock Canyons, a deeper canyon dive.
Black Rock Canyon The most well-known dive site
This site was created by volcanic action, and is a combination of caves, tunnels, cracks, and crevices. It is known as one of the most exciting dives in this area. You can turn a corner or come out of a tunnel, just to run into a sleeping shark or moray eel. You'll also see plenty of silverside sardines, glassy sweepers, groupers and barracudas.
This pinnacle is located in a channel and stands on a sandy bottom at 41m, very close to the channel wall, rising to 24m to a point about 17m below the surface. You'll see several varieties of black coral attached to the pinnacle, and a wall of the channel has some really beautiful coral, bluebell tunicates and crinoids at depths of only 3-9 meters.
This dive site was a refrigerator freighter sunk in 1987 to form an artificial reef. The Trader rests on a sandy bottom, completely intact and in waters between 80 and 110 feet (24 – 33 meters), suitable for experienced divers. This is easily one of the most photogenic wrecks in Honduras. Near to the wreck are several coral pinnacles that can be explored as well, and the entire area is teeming with pelagic fish and encrusted corals.
This is a site along a beautiful barrier reef wall that has some spectacular drop-offs. The top of the wall is at about 11m then drops down to about 51m. From here, a sandy shelf juts out 18m or so before the wall drops off into the deep. Black crinoids can be found here.
This dive site encompasses a tunnel along the wall at a depth of 21m, which brings divers into a sandy-bottomed amphitheater-like area populated by huge groupers, yellowtails, moray eels, and swarms of silverside sardines.
Scuba Diving in Cayos Cochinos, Honduras
Cayos is considered the most pristine area of the Bay Islands of Honduras, meaning that it's less inhabited and less touched by humans.
This creates a healthier and more vibrant ecosystem. It is also a protected marine park area and encompasses two small islands: Cayo Menor and Cayo Grande, as well as a number of small cays.
These protected reefs, sitting atop underwater mountains, and include fringing reefs, deep walls, and spur and groove formations.
This area is ranked among the most bio-diverse regions of the Caribbean Sea, and there are more marine species here than anywhere else in Honduras.
Some of the most popular sites in Cayos Cochinos include:
Cocos Sea Mount (aka Roatan Banks) the most well-known dive site
This is definitely the most talked about dive site here and is absolutely stunning to witness firsthand. You'll find huge schools of jacks, snapper, and barracuda swimming around pinnacles that rise from the sea floor to 12 meters from the surface. This area is mostly dived only by liveaboard but is worth the treck. You're also likely to see turtles, spotted eagle rays and groupers. Lionfish ceviche is often caught and cooked for guests.
This site is full of colorful, small creatures, which interact like a sort of cartoon village. All of this plays with an impressive backdrop of bluebell tunicates. You will see hermit crabs, frog fish, flamingo tongue, seahorses, octopus, and moray eels. This also makes for a great night dive as many of these creatures glow.
This dive site is located at the northwest point of Cayos Mayor. It includes a terraced wall with cavers and overhands of healthy corals, including elkhorn, brain and staghorn, among others. You may see sharks, barracuda, and eagle rays swim past in the open water column, as well as French and queen angelfish, tangs, and parrotfish.
Frequently Asked Questions
When should I visit Honduras?
The best time to visit the Honduran Bay Islands is generally when rainy season can be avoided, which is during January and February.
A final consideration is Hurricane season, which runs from June through to October.
As with most of the Caribbean, volatile weather can impact the quality of your dives, but many tourists visit year-round and there are many sites that are more or less protected.
If whale sharks are your number one scuba dive consideration while booking, make sure to visit during the months of March and April or September.
This is your best chance for viewing these majestic animals.
How Do I Get to The Bay Islands of Honduras?
Flying into Honduras is very easy.
The largest airport in the country is Ramon Villeda Morales Airport in San Pedro Sula. A few international flights arrive at Juan Manuel Galvez International Airport on Roatan, but most flights pass through mainland Honduras or other countries in Central America before connecting to Roatan or Utila.
Traveling in and around the country is inexpensive, as well, especially if you choose to ride on the local transport. You can get to the islands from the mainland by ferry as well.
What Dive Conditions Can I Expect in Honduras?
Visibility is generally 24-45 meters, with some reduction during the rainy season.
The Water temperature averages 25° C in winter and 29° C in summer.
Depth is generally 5-40 meters on dives. There is something for all levels of scuba divers.
Currents tend to be gentle or moderate.
There are about 200 dive sites, with more being discovered daily.
Final words
I have been fortunate enough to grow up in a scuba diving family that visited Roatan twice while I was a kid.
This is an experience I'll always cherish and sculpted my world views in unexpected ways.
It also sparked my joy for travel and diving, which has completely changed my life.
Whether you're a young or single traveler, looking for a great place to visit for a honeymoon or with your family, or ready for your first liveaboard experience, Honduras is the perfect vacation for scuba divers.
Book your trip, you won't regret it!