Mexico's Yucatán Peninsula is famous for ancient Mayan pyramids and white sand beaches on the Caribbean Sea.
The authentic food, warm climate, and welcoming locals draw visitors from all over the world.
What many visitors – and even many scuba divers – don't know is that, in addition to the popular dive sites on the coral reefs, there is spectacular diving in freshwater caverns called "cenotes."
Cenotes are caverns created when the ceiling of a flooded limestone cave collapses. The eastern states of Quintana Roo and Yucatán in Mexico are dotted with thousands of these unique formations.
Many cenotes are connected through the longest flooded cave system ever discovered, which is 346 kilometers (215 miles) long!
These pools are filled with crystal clear water, and the Mayans regarded them as sacred sources of drinking water and portals to the underworld.
Scuba Diving in Mexico's Cenotes
Scuba diving in a cenote is unlike diving anywhere else.
First, you will have to drive through the jungle until you reach the dive site.
Cenotes are surrounded by trees and often have vines hanging down into the opening in the ground.
After donning your scuba gear, you may have to descend some stairs or leap a few meters into the sinkhole.
The water stays cool – around 24°C (75°F) – year-round, so most divers wear a thick wetsuit.
While cenotes do have some native wildlife, the main attractions are the geological features you won't find anywhere else.
The word Cenote comes from the Mayan word dzonot, which means "well".
As you descend, you'll notice the stunning clarity of the fresh water. In many cenotes, visibility is so close to perfect that it looks as though you're swimming through the air.
Sunlight filtered through the trees above creates beams of light in the water. The walls of the caverns often have dramatic rock formations, including the sharp stalagmites and stalactites found in dry caves.
Some cenotes feature a visible halocline where a layer of fresh water sits on top of a layer of salt water.
Haloclines can create the illusion that you're swimming on top of underwater rivers within the cavern, which is a fascinating experience.
In the deeper cenotes, you may also find a cloud of hydrogen sulfide sitting at the bottom. Dead branches often reach through the cloud, creating the eerie impression of a foggy swamp.
While the gas cloud would normally be toxic if breathed, swimming through it is perfectly safe.
Descending through the cloud, visibility drops close to zero. Underneath the cloud, the bottom of the cenote is a dark landscape of fallen leaves and branches.
Some cenotes are open caverns where the entrance is always visible. Other cenotes are made up of passageways and smaller caverns where daylight doesn't reach.
Many cenotes are more like a lake and have no ceiling at all.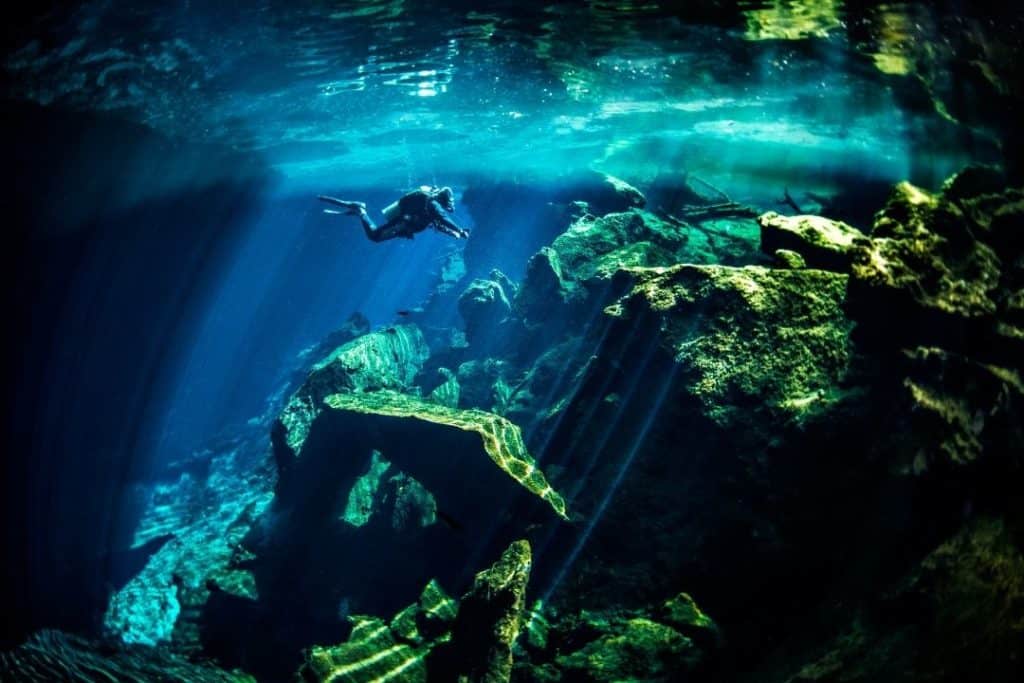 The wildlife you can find in cenotes varies widely. In the dark and isolated caverns, you may be lucky to see small crustaceans or catfish.
In the more open cenotes that have thriving plant life, you can sometimes see turtles and schools of fish. Some cenotes are home to specialized species found nowhere else, like blind fish and blind eels.
I've heard that some cenotes even have a resident friendly crocodile!
Since cenotes were places of Mayan ritual sacrifice, artifacts and bones have been found in many of them.
Archaeologists have removed most artifacts for study and documentation.
Best Cenote Dive Sites
Quintana Roo
Dos Ojos
Dos Ojos ("two eyes") is a truly impressive cenote and my personal favorite.
There are two lines you can follow: the Bat Cave Line or the Barbie Line.
The Bat Cave Line leads you through chambers of varying sizes with thousands of pointed rock formations.
A flashlight helps you illuminate the passageways between chambers, as some areas are completely dark.
You surface to view and listen to a cave full of bats, then descend again to complete the dive.
The Barbie Line is more brightly illuminated but still features impressive formations.
It's only 9 meters (29 feet) deep, but cavern divers should be comfortable in darkness and overhead environments.
The Pit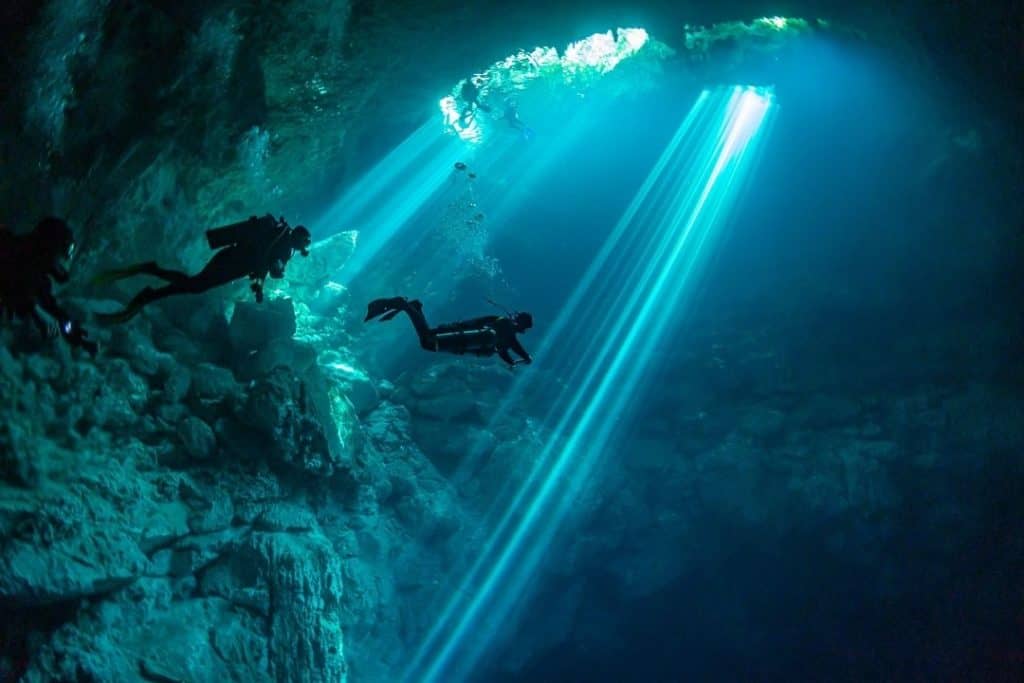 The Pit is the world's largest underwater cave! It's one immense cavern that divers can explore in a circular pattern.
Sun rays penetrate the cave mouth and shine on a hydrogen sulfide cloud at 30 meters (100 feet).
You can observe a halocline around 11 meters (36 feet).
My guide showed us a few small bones under a rock, but I suspect they were just chicken bones placed there on purpose to intrigue tourists.
The maximum depth for this gran cenote dive is 40 meters (120 feet) and some dive shops require an qualified cave divers with advanced certification.
Car Wash / Aktun Ha
Car Wash cenote gets its name because taxi drivers used to stop there to clean their cars. It's an easy cenote to tackle with a maximum depth of 16 meters (52 feet).
There is a large open area that receives abundant sunlight and has vibrant plant life.
The plants make a great home for tetras, turtles, and the occasional small crocodile! There are a few caverns to explore as well.
El Eden / Ponderosa
El Eden is like a large swimming pool in the jungle. With an easy depth of 15 meters (50 feet) and sunlight to illuminate the bottom, you can see moss, rocks, plants, and the fish and eels that live there.
Off to the sides of the cenote, there are some passages and caverns for the more adventurous divers to investigate.
Zapote / Hell's Bells
Zapote cenote is famous for its rock formations that look like bells hanging from the ceiling. It's a deep cenote at 60 meters (197 feet) and features a hydrogen sulfide cloud around 30 meters (100 feet).
The deeper chamber can be dark, and most dive shops will require an advanced certification.
Chac Mool
This cenote features the largest underwater stalactite in the world.
With a maximum depth of 12 meters (40 feet), open water divers can enjoy diving in the spacious caverns, while more advanced divers can explore further into the caves.
There is a halocline around 10 meters (33 feet).
Angelita
Cenote Angelita ("little angel") is one of the deepest cenotes on the peninsula at 60 meters (197 feet) and best for advanced divers.
There are dead branches and pinnacles of rock and dead leaves peeking above the hydrogen sulfide cloud at 30 meters (100 feet), giving the impression of a river or lake within the cenote.
You can descend below the cloud into the darkness if you're feeling brave.
Mérida
Kankirixché
This cenote is one of the largest in Yucatán and reaches up to a depth of 50 meters (165 feet).
Underwater, you can observe impressive stalactites and tree roots along the walls of the cavern.
Part of the cavern is dark, so it's best to bring a flashlight to check out all the features.
An open water certification is all that's needed to experience this cenote.
X'Batún
This cenote features a large open area that lets in lots of sunlight and encourages the growth of plants like lily pads.
Vines hang down from the cavern walls toward the water.
With a maximum depth of 20 meters (65 feet), open water and advanced divers can find something to enjoy.
There are dark caverns as well as brightly lit shallow areas.
How to Get There
In the state of Quintana Roo, you can reach cenotes from towns like Playa del Carmen, Puerto Aventuras, Akumal, and Tulum.
This area from Cancún to Tulum is known as the Riviera Maya.
You can take a flight to Cancún's international airport from a variety of cities in Europe, Canada, the U.S., and many Latin American countries.
Once you land in Cancún, you can rent a car or take a bus or taxi to the towns further south.
Tour operators will take you to cenotes from any of the towns along the Riviera Maya.
In the state of Yucatán, Mérida is the central hub for cenote tours.
You can reach Mérida through its international airport that receives flights from Miami, Houston, and Toronto.
Where to Stay
Mérida, the capital of Yucatán, is a large city close to the Gulf Coast. It features a mix of Mayan and Colonial heritage and offers museums, cathedrals, and plazas.
There are very affordable lodging options as well as high-end hotels.
Along the Riviera Maya, Playa del Carmen offers a party atmosphere near the beach.
Tulum has more of a backpacker feel in the town and a hippie-chic feel along the resort corridor. It's easy to find backpacker hostels and luxury resorts along the Riviera.
These three areas are close to cenote dive locations and local dive shops can bring you out to most caverns in the area, depending on your capacities.
I recommend:
Recommended Dive Shops
Many dive shops on the Yucatán Peninsula specialize in cenote diving.
To guide divers into the cenotes, instructors must have extra certifications for caverns or caves.
Make sure that the dive shop you choose has experienced instructors and good reviews.
Cave Diving Training (Akumal)
CDT in Akumal offers cenote tours for certified divers in all of the best cenotes in the Riviera Maya.
They also offer advanced cave dives for divers who are cave certified.
They teach the full range of cavern and cave certification courses, from introductory all the way up to instructor training.
Phocéa (Playa Del Carmen)
Phocéa has a dive center in Playa Carmen that's a mere 20 minutes away from many popular cenotes.
They offer lodging at their hotel in the center of town and custom cenote trips depending on which cenotes you want to visit.
Diving Yucatán (Merida)
Diving Yucatán offers dive tours to all the best cenotes near Mérida for certified divers.
They also offer certification courses in cenotes, including open water, advanced, and specialty courses like cavern diver.
Cenote Diving FAQs
What certification do I need to dive in cenotes?
Most dive shops will require that you have at least an open water certification to dive in the cenotes.
Some deeper cenotes will require an advanced certification and/or a minimum number of logged dives.
There are a few dive shops in the Riviera Maya and Yucatán that will take you to do a beginner dive, called "Discover Scuba" in a cenote, but most won't.
To go deeper than 30 meters (100 feet) or to penetrate far into a cave system, dive shops will require you to be cavern or cave certified.
What is the difference between cavern and cave diving?
Cavern diving is recreational diving where there is an overhead environment, but you don't go farther than 60 meters (197 feet) away from the surface laterally or deeper than 30 meters (100 feet).
This means that you would still be able to make an emergency ascent on your own to reach the surface without any specialized training.
A regular open water certification qualifies you to dive in a cavern, but you can also take a specialty cavern certification course.
Popular organizations like PADI, NAUI, and SSI give recreational certifications.
Cave diving is not recreational diving but technical diving.
Technical diving occurs when you cannot make an ascent at any time to reach the surface and you need specialty training and equipment beyond those of recreational diving.
Cave divers are trained to navigate potentially thousands of meters into caves and carry backup equipment with multiple tanks.
Only specialized technical diving organizations like TDI can certify cave divers and cave instructors.
Can I take certification courses in the cenotes?
Yes! Even absolute beginners can do a discover dive in a cenote, although not all dive shops offer that class.
Most dive shops require an open water or advanced certification depending on the depth of the cenotes.
Some dive shops will teach the open water and advanced courses right in a cenote.
What type of specialty courses can i take for cavern diving?
For recreational divers who are already certified, many dive shops on the Yucatán Peninsula offer advanced certification and diving courses especially for caverns and caves:
Cavern Diver: This course requires an advanced certification. It takes around 3 days and teaches you the basic safety procedures for caverns.
Intro to Cave: After completing a cavern certification, you can take this course over 3 days to learn how to dive further away from the comfort of daylight.
Full Cave: This certification requires completing Intro to Cave and will take about 4 days. You can learn more about safety, gas management, and navigating small passageways.
Cave Sidemount: After becoming Full Cave certified, in 3 days you can learn how to carry tanks in a more flexible configuration for navigating caves. Side mounting is sometimes used by experienced divers outside of these massive cave systems.
Stage Cave: This course takes 3 days and allows you to dive deeper and longer into caves by adding more cylinders.
Dive Propulsion Vehicle Cave: If you are a Stage Cave diver, you can learn to use a handheld motorized vehicle to propel you through long caves. This course takes about 4 days.
Cave Surveying: Stage Cave divers can learn to map caves in this 4-day course.
How much does it cost to dive in cenotes?
Mexico is an affordable place to dive overall, but diving cenotes is more expensive.
A beginner dive in a cenote can cost at little as $95 USD, while a 2-tank dive for certified divers usually runs between $130-$300 depending on the dive shop and how much equipment you need to rent.
Certification courses start at a few hundred dollars for open water or advanced, but cavern and cave courses can cost over a thousand dollars, sometimes with prices similar to scuba instructor courses.
The diving and course fees usually include round-trip transportation, water, and a snack. It's customary to tip for personalized services in Mexico similarly to how you would in the U.S. – about 20%.
What time of the year can you dive in cenotes?
Since the Yucatán Peninsula is warm year-round and there are no currents or waves in cenotes, you can cavern dive there at any time.
There are a few weather-related factors that might influence your decision on when to visit.
The best lighting for the cenotes – when the sunlight is more directly overhead – is from May to September.
The water temperature in the cenotes remains relatively constant all year around 24°C (75°F).
The Yucatán Peninsula has a tropical climate with a cooler dry season from November to February.
The low air temperature on average is 23°C (73°F) but it can fall as low as 19°C (66°F). This season, especially December to February, is the peak high season.
That means larger crowds and higher prices.
From March to May, the temperature gradually rises. March to April is also the time when spring breakers descend upon the Riviera Maya to party.
The rainy season starts in June when temperatures average 27°C (81°F). June and September have the highest rainfall, but the rains are usually short intense storms that pass quickly.
In the interior of the peninsula away from the coastal winds, the heat can rise to 40°C (104°F).
And don't forget about the humidity! The rainy season brings exceptional humidity to the entire peninsula. Hurricane season lasts from June to November with a peak from August to October.
Even if a hurricane doesn't hit the peninsula directly, it can still bring dangerous wind, rain, and flooding to the low-lying areas.
During the hot and rainy season, you'll find more discounts and fewer crowds.
Is it safe to dive in cenotes?
Diving in cenotes is safe as long as you stay calm, follow instructions, and dive within the limits of your training.
Your instructor will give you a special briefing different from the kind of briefing you would get for an ocean dive.
Dive shops usually limit the cavern dive group to fewer divers than they would allow for an ocean dive so that the instructor can keep careful watch of everyone.
Mentally, you'll need to assess whether being in an overhead or dark environment will scare you.
Caverns have specific hazards like sharp stalactites, dark rooms, and small passageways, all of which you can prepare for.
You should definitely take a flashlight with you, so make sure your guide gives you one. It's necessary to be confident and deliberate with your buoyancy so as not to crash into the ceiling.
Your guide should also go over the unique features of cenotes that can be disorienting, such as the halocline and hydrogen sulfide cloud.
Stirring up the halocline can make the water blurry and reduce visibility while stirring up a hydrogen sulfide cloud can reduce visibility to zero.
You should know how to frog kick to avoid kicking up silt and clouds. If you don't know how, have your guide explain it to you.
If you're open water certified, you've been trained to descend to 18 meters (60 feet), while advanced divers are trained to 30 meters (100 feet).
It's your responsibility not to pass the limits of your training.
If you want to explore further into caves, it's absolutely necessary to take the time to get cave certified; it's extremely dangerous to go into small passageways or stray far from the water's surface.
By staying close to your buddy, your guide, and staying calm, you can have a safe cavern diving experience you'll never forget.
Is it eco-friendly to dive in cenotes?
Cenotes in the yucatan peninsula are fragile ecosystems that can be damaged by tourism.
You can help to preserve these distinctive environments by listening carefully to your dive guide and paying attention to your buoyancy.
The rocky features of the caverns, like stalactites, will not reform if you break them. Those features can only form when the cave is dry.
Learning proper finning techniques will help you control your kicks when diving in the cenotes.
Some sunscreens have harmful ingredients that can kill aquatic life. Chemicals like avobenzone, homosalate, and octocrylene can damage or kill plant and animal life in the cenotes.
Sunscreens that use zinc or titanium as the active ingredients are better for the environment.
Be sure to check the ingredients list, as some sunscreens with harmful chemicals are still labeled as "nontoxic to aquatic life" when they actually are.
Conclusion
Mexico's Yucatán Peninsula is full of magical cenotes, some of which surely remain undiscovered.
Divers of all experience levels can experience some of the best scuba diving in mexico, and on the planet in these caverns.
Diving the cenotes is surely a bucket list dive trip !
Is there a cenote you would add to the list? Leave a comment below!