The Atomic Aquatics Cobalt II console dive computer has tons of buzz within the dive community — but how great is it, really? Are the perks worth dealing with the drawbacks? 
I have had an Atomic Cobalt II dive computer for over 5 years, and in my personal opinion — YES — the perks are certainly worth dealing with the drawbacks.
The Cobalt II is the most user-friendly dive computer I've ever used, which is saying something coming from me because I worked retail in a dive shop for over 3 years and have been an instructor for over 6 (meaning I have used looooots of different dive computers!).
Overview
Atomic Aquatics Cobalt II
This Do-it-all console style computer has an easy to read OLED color display that is backlit and bright, it's great for low-visibility conditions.
Full color OLED display provides the high contrast, sharpness and brightness that can be viewed at almost any angle
On-board 3D digital compass
Updated version
Main Features
The main characteristics of the Atomic Cobalt II Console Dive Computer that I think make it amazing are:
4 buttons to make navigation through the settings and modes extremely easy
LCD color screen that makes it easy to view above and below the surface
Rechargeable so that you never have to take it in for battery replacement
600 hour dive log memory
Dive log is downloadable to your computer
Pre-programmable user profiles (you can save specific settings you use the most often)
Integrated full-tilt 3D compass
Recreational RGBM algorithm
Interface: Brightness & Visibility
The interface of the Cobalt II is extremely intuitive, offering 4 navigation buttons to move through the main menu into submenu options — I was able to find everything I needed to use the computer without reading the instruction manual at all.
Gone are the days of trying to figure out what press-and-hold patterns are needed to select menu items or get out of a menu on simple 2-button dive computers!
While the easy navigation is a huge perk for the masses, the LCD color screen was one of the first things that drew me to this computer.
I have always had trouble seeing my computer screen underwater with the older style screens, and using the Atomic Cobalt II color screen is like looking at a laptop computer.
It is so easy to see, and I love being able to change the brightness to work with the dive environment as needed.
Old computers had back lights, but generally those weren't adjustable in brightness, and often didn't get bright enough (at least for me) to see in a bright dive environment.
The only time I have trouble seeing the color screen on the Cobalt II is in direct sunlight on the surface, but holding my hand over the screen solves that problem (and this never solved the problem looking at a non-color screen dive computer for me, as it still wasn't bright enough to shine through the sun's glare).
A Console Dive Computer
Two other huge decision factors for me in buying the Cobalt II were the rechargeable battery and the console style.
I am definitely the diver that would misplace something as small and portable as a wrist dive computer, so a console style that is always attached to my regulator (unless I remove the computer end to charge it) is great.
Then when I do my dive check, I have the empty end of my Cobalt II hose to remind me to grab it off the charger and take it on the dive!
I am also quite rough with my gear, so the durable brick-like body of the Atomic Cobalt II console computer is definitely necessary to withstand being tossed into my bag or shoved into a trunk full of other gear.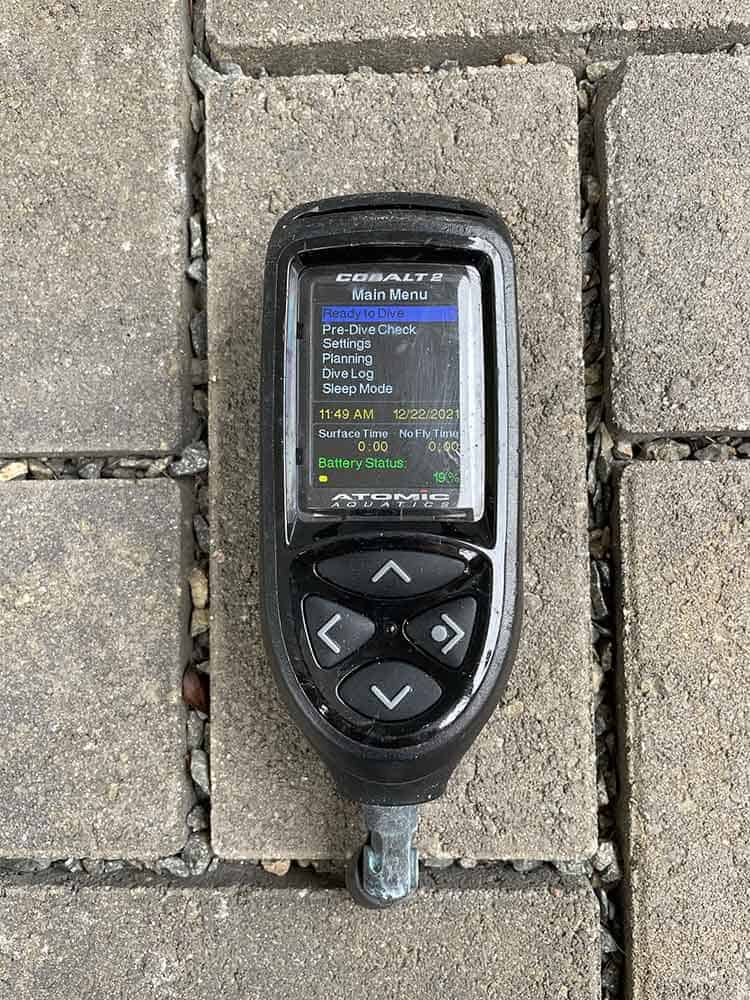 The rechargeable battery is simply a dive-saver — how many times have you gotten your dive gear out for an exciting trip after months of storing it, only to turn it on and see a low battery signal?
Then when you take it to your dive shop, they say it'll be up to three weeks before it comes back from the manufacturer for a battery change — but you'll already have gone on your trip by then!
The Atomic Cobalt II has a portable cord and charging block to easily plug your computer in on the boat on the way out for a dive, or charge it overnight at home the night before your day trip.
On a longer trip, you'll likely have to recharge the computer a few times for multiple days of diving in a row, but the battery life will absolutely last a few days without needing a recharge.
Beware of early production units
When they first came out, the Cobalt II computers had a few production cycles with faulty batteries, where the battery died after 1 day of use or a couple of dives.
I had to send my computer back to Atomic once for that issue, and they replaced my computer with a brand new one that was not faulty.
Since then I haven't had any issues with the battery life, and I also like that even if my computer has only 1% battery and I forgot to recharge it, I can usually still get through a day of diving without it dying on me because of the standby power function!
I have never had it die on me underwater, even in these cases where I pull it out of my bag with only 1% charge left.
Dive logs
Beyond the basic user interface and ease of use that makes a Cobalt II great, there are additional features that improve the customized use of the computer, as well.
Different divers love different settings and features, and the Cobalt II satisfies most of these varied desires.
There is over 600 hours of dive log capability, which captures basic data like depth, temperature, NDL, dive time, and dive number (it also has some extra data capture that's cool like your gas consumption rate).
In addition, the dive log captures your full dive profile, producing a graph for each dive that shows your depth, the temperature at that depth, your gas time and other statistics at that depth, and puts it all into a graphic portrayal of your dive.
This is one of the features I love to show to my students — they get excited to see a visual representation of their first dives in the ocean.
For those divers that love to save this information and reference it over the years, the charging block also works as an adapter for a cable to plug the console into a computer or laptop for downloading.
You can see which applications are necessary to download your dive log onto your computer on the Atomic website at the bottom of the Cobalt firmware page.
Known Issues
The known issues that I ran across during the first years of selling this computer are few. The battery issue that I already referred to was a common one, which has since been culled.
The other main issue we got with Cobalt II computers was the "right" navigation button getting stuck or no longer pressing down/working.
When this happened we would send the computer back to Atomic Aquatics for them to repair the button or fully replace the computer.
Apart from those issues, there were the minor instances a dive shop sees with every new computer — customers reporting issues of air or depth misreading, and 1 or 2 customers noting that the inner screens of their Cobalt II were detaching slightly.
With each of these issues, Atomic was very amenable to replacing the computer without cost.
Now that the computer has been out for over 5 years, the complaints of these issues have essentially ceased, and the batches of Cobalt II computers in recent years have had no known regular issues.
The only other "complaint" that still circulates is about the temperature reading — the Cobalt II consistently reads the water temperature a couple of degrees warmer than the water actually is!
Atomic Aquatics Cobalt II VS Oceanic ProPlus X
The closest competitor for this computer is the Oceanic ProPlus X (PPX).
The PPX was manufactured in direct response to the Cobalt II, and the ease of use, battery life, display, and console shape are essentially the same.
However, the PPX algorithms (you can choose from 2) are much simpler than the algorithm used in the Cobalt II, and the actual dive functions of the PPX depend on depth triggers/timers instead of algorithms that respond to anticipated diver intent, like those used in the Cobalt II.
The dive log in the Cobalt II stores much more memory and data, as well (the PPX only stores about 100 dives, and samples much less data to store in your log).
The only thing that I would say the PPX has over the Cobalt II is the display size (the screen is much bigger), and the price (although in my opinion, it is worth the couple hundred dollars more to get the Cobalt II with all of it's additional features and functionality).
If you want to read more about the differences in these two computers, this scubaboard thread is a great resource.
Final Words
In sum, if you are ready to invest in your dive gear to purchase reliable and high-quality gear, the Atomic Cobalt II is my top choice for a console dive computer!